2016 Birders Challenge
Rules
Spreadsheet or PDF

Newsletters & Articles
Newsletters
Field Trip Reports
Bird of the Month
Feature Articles
Special Reports
Hotline Sightings
Recent Sightings
Local email list (ucbirders)
Subscribe to other Utah Lists
Places to Bird
Utah County
Utah State
Birding & Birders
What we do
People to Contact
E-mail
[email protected]
The Utahbirds Website
Utahbirds.org
---
Thursday, August 11th, 2016

Potluck up South Fork - 7:00 pm.

Everyone is invited! Bring your friends and family! This year our potluck will be up Provo Canyon at South Fork Park. This is the park midway up the South Fork road in Provo Canyon. To get there, drive 5.4 miles from the mouth of the canyon to the South Fork turnoff at Vivian Park. Turn right up South Fork and follow the road 1.7 miles to South Fork Park. We will try and grab one of the pavilions. Bring a food item to share. Map: https://goo.gl/maps/LTiVt8XYeFp

Upcoming Field Trips
Saturday, August 6th, 2016: 8am - mid afternoon. Deloy Pack has offered to lead a trip to Pat Jividen's place in Tabiona on Saturday, August 6th. Meet at the North side of the Harmon's parking lot on 800 N. in Orem at 8am. First stop will be the Reid's place in Hannah where the group will spend half an hour or so, and then to the Jividen's place. Black-chinned, Broad-tailed, and Rufous Hummingbirds are a good bet, and Calliope Hummingbirds are possible (Pat and the Reid's have both seen them at their feeders). White-breasted nuthatches as well as other mountain birds are also possible. Plan to carpool and return via Hwy 35 around mid afternoon. Bring a camp stool or chair, and lunch/snacks.
Saturday, August 13th, 2016: 7am - late afternoon. In search of migrating shorebirds. Meet at the American Fork Park and Ride lot on Pioneer Crossing. We will follow shorebird reports north to Antelope Is., Farmington Bay, or Bear River Refuge depending on what's being seen and where. Bring a lunch. Led by Keeli Marvel
Monday, August 15th, 2016: Nebo Bench. Led by Suzi holt. Meet at the regular spot at the Payson Walmart at 8:45 am. We will drive up Santaquin canyon to get there. Target bird is the American Three-toed Woodpecker, Purple Martin, Red-breasted Nuthatch, Golden-crowned Kinglet, flycatchers and other migrant species.

We are actively recruiting people to lead local half-day field trips, any time, any place. If you would like to lead a field trip or if you have any ideas for this year's field trips, please contact Bryan Shirley at - [email protected] or Keeli Marvel at

Field Trip Reports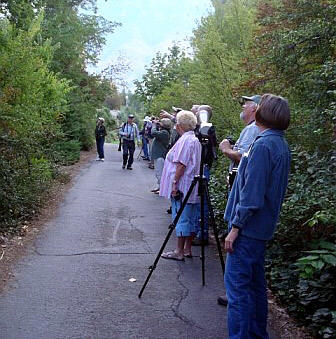 Liedy Peak
30 July 2016
Mirror Lake Hwy
9 July 2016
Soldier's Pass
18 June 2016
Chimney Rock Pass
10 June 2016
Utah County Hotspots
23 May 2016
Hollow Park, Payson
21 May 2016
Washington County
29 April - 1 May 2016
South Utah County
21 April 2016
Antelope Island
13 February 2016
South Utah County
9 January 2016
Annual Loon Loop
21 November 2015
The Big Sit, Provo Airport Dike
10 October 2015