Newsletters & Articles
Newsletters
Field Trip Reports
Bird of the Month
Feature Articles
Special Reports
Hotline Sightings
Recent Sightings
Local email list (ucbirders)
Subscribe to other Utah Lists
Places to Bird
Utah County
Utah State
Birding & Birders
What we do
People to Contact
E-mail
ucbirders@utahbirds.org
The Utahbirds Website
Utahbirds.org
August Newsletter
---
Thursday, August 13th, 2015 - 7:00 pm
Summer Social Potluck - Our meeting this month will be our annual potluck dinner and social on our regular meeting night, August 13th, at 7pm. We will be meeting at the pavilion at Rock Canyon Park (in the lower park where we've held our dinner in previous years). Bring a potluck item to share and come join us for dinner and socializing!

Upcoming Field Trips
Saturday, August 22nd, 2015. 7am-12pm. Silver Lake in Big Cottonwood Canyon. We will meet at the Pioneer Crossing Park and Ride on the northwest corner of the American Fork Main Street I-15 exit (next to the Value Place Motel) to carpool up Big Cottonwood Canyon. We may stop along the way, but our ultimate goal will be to bird the boardwalk area at Silver Lake and the top of the canyon. Bring snacks, water, and bug spray.

We are actively recruiting people to lead local half-day field trips, any time, any place. If you would like to lead a field trip or if you have any ideas for this year's field trips, please contact Bryan Shirley at - bt_shirley@hotmail.com


Field Trip Reports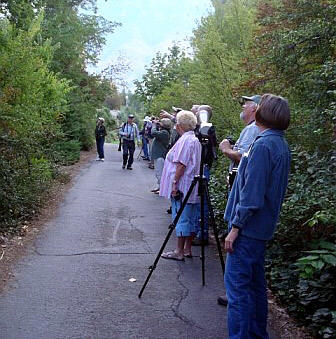 Mirror Lake Highway
11 July 2015
River Lane
20 June 2015
Skipper Bay Trail
9 May 2015
South Utah County
18 April 2015
Delta Snow Goose Festival
28 February 2015
Jordan River Parkway
17 January 2015
Payson CBC Report
3 January 2015
South Utah County
1 January 2015
Provo CBC Report
20 December 2014
Salem and vicinity
19 December 2014
Genial's House
17 December 2014
Beaver and Iron Counties
8 November 2014
Payson Canyon
30 October 2014
PAD, Big Sit
11 October 2014
Grand & San Juan Counties
13-14 June 2014