2016 Birders Challenge
Rules
Spreadsheet or PDF

Newsletters & Articles
Newsletters
Field Trip Reports
Bird of the Month
Feature Articles
Special Reports
Hotline Sightings
Recent Sightings
Local email list (ucbirders)
Subscribe to other Utah Lists
Places to Bird
Utah County
Utah State
Birding & Birders
What we do
People to Contact
E-mail
[email protected]
The Utahbirds Website
Utahbirds.org
---
Thursday, January 12th, 2017

Annual dinner at Golden Corral - 7:00 pm

This month we will have our annual dinner at Golden Corral in Orem (225 W University Pkwy). Dinner is pay on your own, but we will have a room reserved for the club, and will hand out awards for the 2016 challenge. Even if you didn't participate in the challenge, we welcome you out for an evening of dinner and socializing.

Upcoming Field Trips
Saturday, Jan 14, 2017: 8am- early afternoon. Meet at the Provo East Bay Sam's Club Parking lot. We will check out various hot spots around the East Bay Golf Course, Flow Serve, and Salem Pond. Dress warm and bring a lunch or snacks.

We are actively recruiting people to lead local half-day field trips, any time, any place. If you would like to lead a field trip or if you have any ideas for this year's field trips, please contact Bryan Shirley at - [email protected] or Keeli Marvel at - [email protected]

Field Trip Reports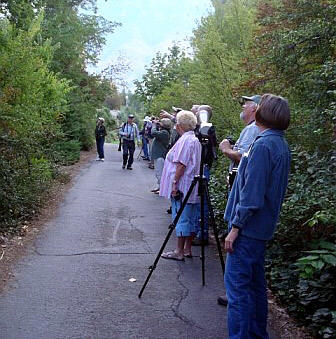 Provo CBC Report
17 December 2016
IC and Lee Kay
15 October 2016
Big Sit Provo Airport
8 October 2016
Squaw Peak Overlook Hawkwatch
17 September 2016
Nebo Bench Trail
15 August 2016
Pat Jividen's place in Tabiona
6 August 2016
Liedy Peak
30 July 2016
Mirror Lake Hwy
9 July 2016
Soldier's Pass
18 June 2016
Chimney Rock Pass
10 June 2016
Utah County Hotspots
23 May 2016
Hollow Park, Payson
21 May 2016
Washington County
29 April - 1 May 2016