Newsletters & Articles
Newsletters
Field Trip Reports
Bird of the Month
Feature Articles
Special Reports
Hotline Sightings
Recent Sightings
Local email list (ucbirders)
Subscribe to other Utah Lists
Places to Bird
Utah County
Utah State
Birding & Birders
What we do
People to Contact
E-mail
ucbirders@utahbirds.org
The Utahbirds Website
Utahbirds.org
November Newsletter
---
Tuesday, November 10th, 2015 - 7:00 pm. The meeting this month will be on a different night than normal.

Jason Robinson from the Utah Division of Wildlife Resources will be our guest speaker. Jason has agreed to come talk to us about the recent federal listing decision to not list the Greater Sage-grouse as threatened or endangered and what efforts the state and other entities are taking to conserve sage grouse in Utah.

Meet at 7:00 pm at the Monte L. Bean Museum. 645 East 1430 North, Provo, UT http://mlbean.byu.edu/

Next month we will return to our normal meeting date.

Upcoming Field Trips
Saturday November 21st, 2015: 7:30am-early afternoon. Meet at the parking lot at the mouth of Provo Canyon to carpool. We will go on our annual Loon Loop field trip where we will plan to visit some mountain reservoirs in search of Loons and other winter waterfowl. Where we go will be bird sighting and weather dependent. Please come out and join us!

We are actively recruiting people to lead local half-day field trips, any time, any place. If you would like to lead a field trip or if you have any ideas for this year's field trips, please contact Bryan Shirley at - bt_shirley@hotmail.com


Field Trip Reports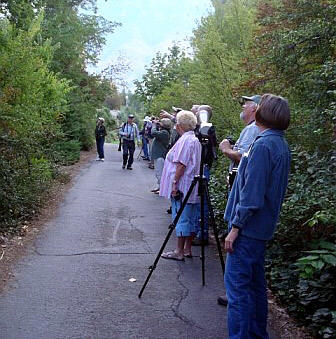 The Big Sit, Provo Airport Dike
10 October 2015
Antelope Island
26 September 2015
River Lane
12 September 2015
Silver Lake Boardwalk
22 August 2015
Mirror Lake Highway
11 July 2015
River Lane
20 June 2015
Skipper Bay Trail
9 May 2015
South Utah County
18 April 2015
Delta Snow Goose Festival
28 February 2015
Jordan River Parkway
17 January 2015
Payson CBC Report
3 January 2015
South Utah County
1 January 2015