2016 Birders Challenge
Rules
Spreadsheet or PDF

Newsletters & Articles
Newsletters
Field Trip Reports
Bird of the Month
Feature Articles
Special Reports
Hotline Sightings
Recent Sightings
Local email list (ucbirders)
Subscribe to other Utah Lists
Places to Bird
Utah County
Utah State
Birding & Birders
What we do
People to Contact
E-mail
[email protected]
The Utahbirds Website
Utahbirds.org
---
Thursday, June 9th, 2016 - 7pm at the Bean Museum.

Neil Paprocki from Hawkwatch will give a presentation titled "Short-eared Owl Conservation and Citizen Science" on a Citizen Science project currently under way to understand more about Short-eared Owl populations in Utah.
Meet at 7:00 pm at the Monte L. Bean Museum. 645 East 1430 North, Provo, UT http://mlbean.byu.edu/

Upcoming Field Trips
Friday, June 10, 2016: 5 pm til dark. - Genola and Chimney Rock Pass, led by Suzi Holt. We will meet at the Payson Walmart by the big blue sign. From there we will head West to Genola check for the Bobolink, then Elberta looking for burrowing owl, long-billed curlew. Then head out through Chimney Rock Pass. Ending close to Eureka.
Saturday, June 18th, 2016: 7am-12pm - Soldier's Pass on the west side of Utah Lake, led by Keeli Marvel. We will drive over the pass, stopping in various places to listen for birds and see what is around. We may also bird along the west end of Utah Lake on our way back. Higher clearance vehicles recommended for the Soldier's Pass Road. Meet in the southwest corner of the Saratoga Springs Walmart parking lot near the Chase Bank.

We are actively recruiting people to lead local half-day field trips, any time, any place. If you would like to lead a field trip or if you have any ideas for this year's field trips, please contact Bryan Shirley at - [email protected]

Field Trip Reports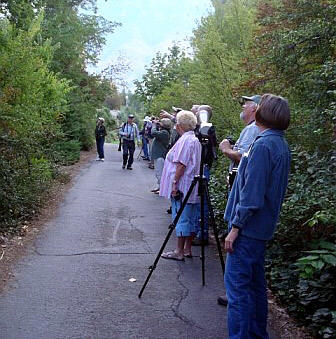 Utah County Hotspots
23 May 2016
Hollow Park, Payson
21 may 2016
Washington County
29 April - 1 May 2016
South Utah County
21 April 2016
Antelope Island
13 February 2016
South Utah County
9 January 2016
Annual Loon Loop
21 November 2015
The Big Sit, Provo Airport Dike
10 October 2015
Antelope Island
26 September 2015
River Lane
12 September 2015
Silver Lake Boardwalk
22 August 2015