2016 Birders Challenge
Rules
Spreadsheet or PDF

Newsletters & Articles
Newsletters
Field Trip Reports
Bird of the Month
Feature Articles
Special Reports
Hotline Sightings
Recent Sightings
Local email list (ucbirders)
Subscribe to other Utah Lists
Places to Bird
Utah County
Utah State
Birding & Birders
What we do
People to Contact
E-mail
[email protected]
The Utahbirds Website
Utahbirds.org
---
Thursday, September 15th, 2016 (Note Date: This month's meeting is on the 3rd Thursday, not our usual 2nd Thursday)

Celebrating the 100th birthday of the MBTA - 7:00 pm.

Thursday, Sept 15, 2016 Celebrating the 100th birthday of the MBTA. What is MBTA and why should birders care? Keeli Marvel will give a fun and informative presentation in partnership with the US Fish and Wildlife Service on the history and importance of the Migratory Bird Treaty Act.
Meet at 7:00 pm at the Monte L. Bean Museum. 645 East 1430 North, Provo, UT http://mlbean.byu.edu/

Upcoming Field Trips
Saturday, September 10th, 2016: 8am- noon. Utah Lake State Park. We'll look for continuing migrants around the State Park and the surrounding area. Meet at the pull off just past the bridge but before the State Park entrance on the north side of Center St. Bring a Utah State Park pass and a spotting scope if you have one.
Saturday, September 17th, 2016: 10am-3pm. The Utah County Birders are partnering with Hawkwatch for a day of hawk watching at Squaw Peak. Bring a chair to sit on and a scope if you have one. All birder experience levels are welcomed! https://hawkwatch.org/participate/calendar/migration-sites/350-hawkwatching-at-squaw-peak

We are actively recruiting people to lead local half-day field trips, any time, any place. If you would like to lead a field trip or if you have any ideas for this year's field trips, please contact Bryan Shirley at - [email protected] or Keeli Marvel at

Field Trip Reports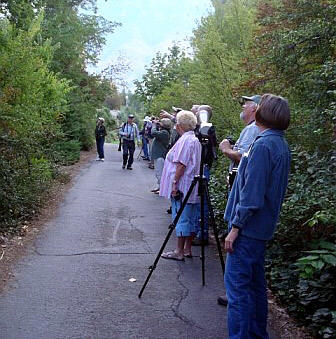 Liedy Peak
30 July 2016
Mirror Lake Hwy
9 July 2016
Soldier's Pass
18 June 2016
Chimney Rock Pass
10 June 2016
Utah County Hotspots
23 May 2016
Hollow Park, Payson
21 May 2016
Washington County
29 April - 1 May 2016
South Utah County
21 April 2016
Antelope Island
13 February 2016
South Utah County
9 January 2016
Annual Loon Loop
21 November 2015
The Big Sit, Provo Airport Dike
10 October 2015