Newsletters & Articles
Newsletters
Field Trip Reports
Bird of the Month
Feature Articles
Special Reports
Hotline Sightings
Recent Sightings
Local email list (ucbirders)
Subscribe to other Utah Lists
Places to Bird
Utah County
Utah State
Birding & Birders
What we do
People to Contact
E-mail
ucbirders@utahbirds.org
The Main Website
Utahbirds.org
March Newsletter
---
Thursday, March 12th, 2015 - 7:00 pm

Dr. Clayton White, ornithologist and emeritus professor from BYU, will present on a new book he coauthored called "Peregrine Falcons of the World".
Meet at 7pm at the Bean Museum. 645 East 1430 North, Provo, UT http://mlbean.byu.edu/
Upcoming Field Trips
March 6, 2015 (Fri) - 9-11am. Bird walk around Powell Lake and Jordan River Trail. Park at Powell Lake (roughly 3250 West Willow Reed Rd in Lehi) and we will bird around the pond and down the Jordan River trail for a short distance. To get to Powell Lake, take Lehi Main Street West towards Saratoga Springs. Just before you cross the Jordan River, turn left (south) onto Willow Lane. At the "t" junction, turn right onto Willow Reed Rd and you will see the ponds. Park along the road next to the pond.

March 14, 2015 (Sat) - 5:45am - 11am. Henefer Greater Sage-grouse Lek and birding around East Canyon Reservoir. Meet on the northeast end of the Harmon's Grocery Store parking lot at 5:45am to carpool.

We are actively recruiting people to lead local half-day field trips, any time, any place. If you would like to lead a field trip or if you have any ideas for this year's field trips, please contact Bryan Shirley at - bt_shirley@hotmail.com


Field Trip Reports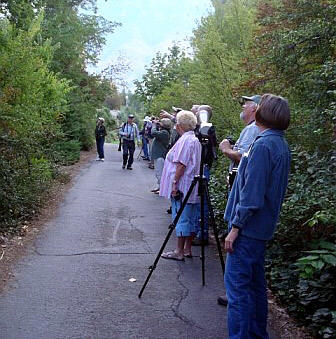 Delta Snow Goose Festival
28 February 2015
Jordan River Parkway
17 January 2015
Payson CBC Report
3 January 2015
South Utah County
1 January 2015
Provo CBC Report
20 December 2014
Salem and vicinity
19 December 2014
Genial's House
17 December 2014
Beaver and Iron Counties
8 November 2014
Payson Canyon
30 October 2014
PAD, Big Sit
11 October 2014
Grand & San Juan Counties
13-14 June 2014