2016 Birders Challenge
Rules
Spreadsheet or PDF

Newsletters & Articles
Newsletters
Field Trip Reports
Bird of the Month
Feature Articles
Special Reports
Hotline Sightings
Recent Sightings
Local email list (ucbirders)
Subscribe to other Utah Lists
Places to Bird
Utah County
Utah State
Birding & Birders
What we do
People to Contact
E-mail
ucbirders@utahbirds.org
The Utahbirds Website
Utahbirds.org
2016 Birders Challenge
The Utah County Birders have announced their much acclaimed biennial "Birder Challenge" with Gold, Silver and Bronze levels of birding performance. Points will be awarded depending on the rarity of the birds seen in Utah during the year. Here are the challenge rules. Here is a spreadsheet and a PDF printout you can use if you'd like to participate.
---
---
Thursday, February 11th, 2016 - 7:00 pm.

Eric Peterson will give a presentation titled "Hummingbird Mania" featuring many of his stunning photos and birding stories about the hummingbirds he's seen during his travels.
Meet at 7:00 pm at the Monte L. Bean Museum. 645 East 1430 North, Provo, UT http://mlbean.byu.edu/

Upcoming Field Trips
Saturday February 13, 2016: 7:30am-early afternoon. Antelope Island and yonder. Meet at the Park and Ride on the northwest corner of the American Fork Main Street exit off I-15 to carpool. Bring a State Park pass if you've got one. This trip will be weather dependent (if it's cold and snowy we might end up somewhere a little closer).

We are actively recruiting people to lead local half-day field trips, any time, any place. If you would like to lead a field trip or if you have any ideas for this year's field trips, please contact Bryan Shirley at - bt_shirley@hotmail.com


Field Trip Reports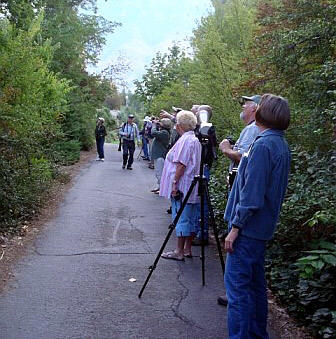 South Utah County
9 January 2016
Annual Loon Loop
21 November 2015
The Big Sit, Provo Airport Dike
10 October 2015
Antelope Island
26 September 2015
River Lane
12 September 2015
Silver Lake Boardwalk
22 August 2015
Mirror Lake Highway
11 July 2015
River Lane
20 June 2015
Skipper Bay Trail
9 May 2015
South Utah County
18 April 2015
Delta Snow Goose Festival
28 February 2015
Jordan River Parkway
17 January 2015