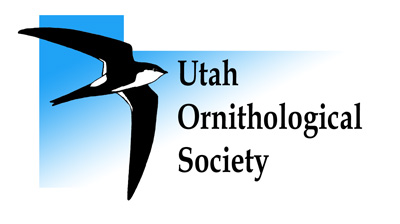 FALL CONFERENCE ANNOUNCEMENT
The Utah Ornithological Society will hold our 2008 fall conference September 12 - 14 in Ogden, Utah. Co-sponsors include Weber State University's Department of Zoology and Wasatch Audubon Society.
The Best Western High Country Inn at I-15 exit 344 (12th Street) will accommodate conference attendees at a reduced rate of $72.00 for a double with queen beds, $68.00 for a single king and $63.00 for a single queen. Call the inn at 801-394-9474 by September 1st and tell them you're with UOS to obtain these rates.
The Friday evening social will be held at Jeremiah's Restaurant which is adjacent to the inn. Our keynote speaker will be Dr. Dale Clayton, an ornithologist interested in interactions between birds and their parasites. Dr. Clayton is currently a Professor of Biology at the University of Utah where he teaches evolutionary biology, ornithology and advanced field ornithology and has an active lab of about a dozen members. "We are probably the only people on earth who actually worry about running out of lice. Conversations in local restaurants draw stares of disbelief from other patrons (not to mention copious scratching). We don't get invited to parties much," laughs Dr. Clayton.
Dr. Clayton will entertain us with stories about some of the work he and his students have done on tropical birds in exotic locations over the past 15 years with an emphasis on their latest project studying invasive parasites of Darwin's Finches in the Galapagos Islands.
The Saturday paper and poster session will be held at WSU's Shepherd Union, Wildcat Theater and Fireside Lounge. A light breakfast will precede the presentations and a UOS general membership meeting will follow. Scheduled speakers include:
John Cavitt, WSU – Results of recent Great Salt Lake Snowy Plover survey

Bill Fenimore – Writing his Backyard Birds series of books

Kristen Gurr, WSU – Nest and foraging site selection in American Avocets and Snowy Plovers

Robyn MacDuff – Raptor Inventory Nest Survey (RINS)

Hayley McCoy, WSU – Artificial nest study to examine effects of predator corridors

Colby Neuman - eBird

Josh Vest, USU - Overwinter Ecology of Wintering Waterfowl from the Great Salt Lake

Utah's National Wildlife Refuge managers - Watchable wildlife programs, the new birding initiative within USFWS for improving opportunities for birders and how birders can be financially supportive of the NWR system
Field trips will be offered on Friday, Saturday and Sunday. See reverse for complete schedule.
Please mark these dates on your calendar. It is not necessary to sign up now - registration forms will be mailed in August. Watch for more information on www.utahbirds.org


Conference Field Trip Schedule

Wasatch Audubon is pleased to invite conference participants to bird with us at our favorite local spots. All transportation is by car caravan with meeting times and locations as noted.
<![if !mso]><![endif]>


Friday, September 12

Snowbasin Ski Resort with Les Talbot – 8:00 AM to 3:00 PM
Maples Loop Trail walk followed by gondola ride/birding at the top of the resort's Needles Lift (cost: $14.00; buy lift tickets at resort). Easy walking and sitting.
Meet: 8:00 AM, Best Western High Country Inn, I-15 at exit 344, 12th Street. Bring lunch or snacks. Food available at the resort.

Bear River Refuge with Betsy Beneke – 8:30 AM to 2:00 PM
Travel along the closed-to-the-public D Line for views of shorebirds, waders, terns and other marsh birds. Easy.
Meet: 8:30 AM, visitor's center parking lot west of I-15 exit 363, Forest Street. Bring lunch or snacks.

Rainbow/Birdsong Trail with Mort and Carolyn Somer – 8:00 AM to 12:00 PM
Riparian corridor and scrub oak foothills with spectacular scenery. Easy.
Meet: 8:00 AM, SE corner of Rainbow Gardens Gift Shop off 12th St. at the mouth of Ogden Canyon.


Saturday, September 13

Beus Park with Jack Rensel – 7:00 AM to 8:30 AM
Jump-start your conference day with a bird walk around a wooded suburban park known for Wood Ducks and Western Screech-owls. Easy.
Meet: 7:00 AM, Beus Parking lot, ½ mile east of Harrison Blvd. on 42nd Street.


Sunday, September 14

Ogden Valley Favorites with Kristin Purdy – 8:00 AM to 3:00 PM
Visit The North Arm Natural Area and Perception Park NFS campground for a walk through two popular riparian habitats. Easy; moderate walking.
Meet: 8:00 AM, Best Western High Country Inn, I-15 at exit 344, 12th Street. Bring lunch or snacks.

Box Elder CG and Mantua Reservoir with Wasatch Audubon – 8:00 AM to 2:00 PM
Enjoy a leisurely walk through a riparian habitat along Box Elder Creek and then watch grebes, coots and waterfowl across the reservoir. Easy.
Meet: 8:00 AM, Best Western High Country Inn, I-15 at exit 344, 12th Street. Bring lunch or snacks.
---
Fall Conference Schedule and Registration Form (coming soon) (PDF)
Conference Map (coming soon) (PDF)
---