We could only muster three cars of people, but a vanguard of Utah County Birders still braved the single-digit chill to start off the New Year with a bang.
East Bay yielded a number of species, including Cinnamon Teal and Rough-legged Hawk; weeven witnessed Wood Ducks perching in a Russian Olive tree. One even ate an olive!

A quick stop at Flowserve rewarded us with a male Hooded Merganser and a male Belted Kingfisher.

Karen Bennett-Young's Anna's Hummingbird delighted us all, as did a number of other firsts for the year in her neighborhood, including a Ruby-crowned Kinglet flashing his ruby at us.

As we headed south to Woodland Hills, we passed a majestic and calm adult Bald Eagle, perched on top of a pole right next to the road.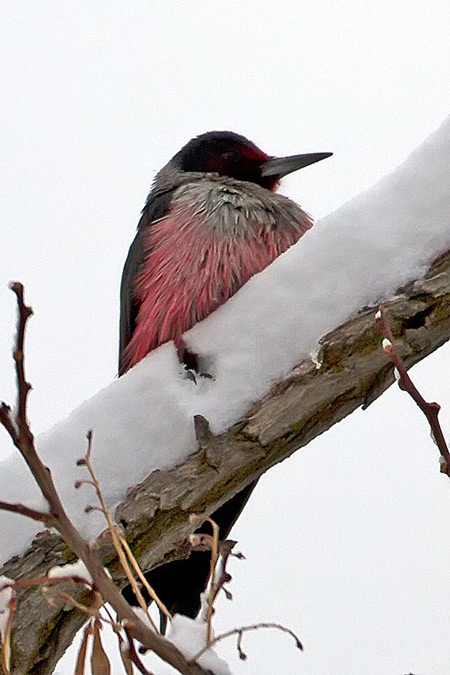 Lewis's Woodpecker
by Kendall Brown ęKendall W. Brown

Two Lewis's Woodpeckers were present at their (at least formerly) usual spot in Woodland Hills, giving us excellent, if distant, looks as they perched on top of telephone poles.

At Salem Pond we found Common Goldeneyes, Buffleheads, and a small group of Lesser Scaup.

Unfortunately, Santaquin Canyon, which was covered with deep snow and filled with snowmobilers, did not yield a single species of Zonotrichia sparrow. :(

A quick stop at Spring Lake yielded nothing extra, so we decided to try Payson Cemetery. At first, it was as quiet as death, though we found many, many owl pellets under promising trees. We did come across a small group of birds (Mountain Chickadees and House Finches, and I briefly glimpsed a Townsend's Solitaire), but we found no owls. By now, two of the cars had left. We remaining three birders persisted, but we found no owls. As we headed back to our car, a young blonde boy ran towards us, announcing that his birding party had found a Barn Owl. Sure enough, we were able to catch a nice view of that reclusive species high in a spruce tree.

All in all, it was a fantastic day, and though the temperature was below freezing, the beautiful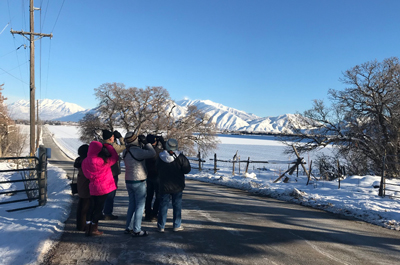 A beautiful day for two Lewis's Woodpeckers...plus a Downy
by Leena Rogers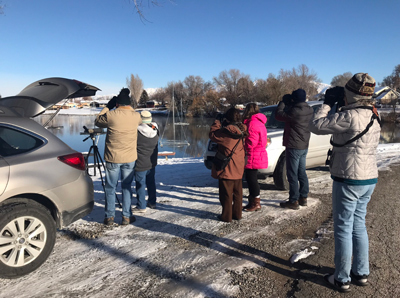 Scanning Salem Pond, by Leena Rogers
sunshine and clear sky made for a wonderful birding adventure to begin the new year.

Here's to another wonderful year of birding!

Josh

Full species list:
43 species total, as follows: Canada Goose, Wood Duck, Gadwall, American Wigeon, Mallard, Cinnamon Teal, Northern Shoveler, Green-winged Teal, Lesser Scaup, Bufflehead, Common Goldeneye, Hooded Merganser, Pied-billed Grebe, Black-crowned Night-Heron, Bald Eagle, Northern Harrier, Cooper's Hawk, Red-tailed Hawk, Rough-legged Hawk, American Kestrel, American Coot, Ring-billed Gull, Rock Pigeon, Eurasian Collared-Dove, Barn Owl, Anna's Hummingbird, Belted Kingfisher, Lewis's Woodpecker, Downy Woodpecker, Northern Flicker, Woodhouse's Scrub-Jay, Black-billed Magpie, Black-capped Chickadee, Mountain Chickadee, Ruby-crowned Kinglet, Townsend's Solitaire, American Robin, European Starling, Yellow-rumped Warbler, Spotted Towhee, Red-winged Blackbird, House Finch, and House Sparrow.