1 Jan 2020
First Twenty for 2020
by Suzi Holt
Are we going? Are we not? Yes we are!
16 birders braved the weather and met at Salem Pond at 8 am. The forecast for snow was correct but wasn't as extensive as it was supposed to be. Our first bird is hard to determine cause everyone was looking. I am going with Northern Flicker! We also saw tons of European Starlings and American Robins. Mallard, Eurasian Collard Doves, Ruby-crowned Kinglet, Song Sparrow and tons of Common Goldeneye. We saw Pied-billed Grebe, Lesser Scaup, American Coot, Ring-necked Duck, Northern Shovelers, Black-capped Chickadees with their joyful song, Dark-eyed Junco, House Sparrows, House Finch. California Quail, Woodhouse's Scrub Jay, Red-tailed Hawk. Belted Kingfisher, Ring-billed Gull, Yellow-rumped Warbler, three Black-crowned Night Herons, Canada Goose and a Merlin. On the way to the Payson Cemetery we saw a couple American Kestrals.
At the Payson Cemetery our cute little Western Screech is back, we also added Black-billed Magpies, Red-breasted Nuthatch, White-crowned Sparrows and a pair of Barn Owls. From there we decided to go after the Evening Grosbeaks and Red-naped Sapsucker at Evergreen Cemetery. The grosbeaks welcomed us with beautiful views right as we drove in. The Red-naped Sapsucker was down on the western edge in the pines, we also found a Lesser Goldfinch and Townsend's Solitaire. It ended up being a awesome day and so glad we went!! We happily surpassed challenge #1- First 20 species of 2020!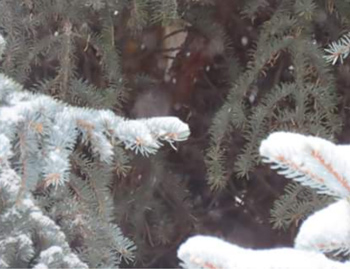 Barn Owls? -- in there somewhere!