Utah County Birders Newsletter
September 2013
Contents
September Meeting
Upcoming Field Trips
Captainís Log
Bird of the Month
Field Trip Report - Tabiona
Field Trip Report - River and Swede Lanes
Backyard Bird of the Month
August Hotline Highlights
---
SEPTEMBER MEETING:
Thursday, September 19th, 2013 - 7:00 PM
Nikki Wayment, from Hawkwatch, on raptor identification "7 Easy Raptors."

PLEASE NOTE: The September meeting will not be on our regular night, but will be held the 3rd Thursday of the Month at 7pm at the Orem Public Library. Our returning guest speaker will be Nikki Wayment, from Hawkwatch, giving a talk on raptor identification titled "7 Easy Raptors."

For our October Meeting we will be meeting at the Hutchings Museum in Lehi on Thursday October 10th. We've been invited back for a free tour and special bird show.

---
14 September 2013 (Sat): Burriston Ponds and Goshen Canyon. Leader: Bryan Shirley - Meet at the Payson Walmart at 7 AM. We'll be back around noon.

21 September 2013 (Sat): Squaw Peak Hawkwatch. The DWR is hosting a Raptor Watch Day at the Squaw Peak Overlook parking lot. They will be there from 9:00 am - 4:00 pm. Come and go as you like or meet Utah County Birders at the 800 North Park&Ride lot at the mouth of Provo Canyon at 8:00 am. We will bird along Squaw Peak Road in the morning and meet up with the hawkwatchers around 10:30. The DWR will be releasing some rehabilitated Swainson's Hawks and a Great Horned Owl at 3:00 pm.
12 October, 2013 (Sat). The Big Sit, Provo Airport Dike - Led by Eric Huish. This will be our 12th year participating in the annual Big Sit! - We will sit in one spot out on the Provo Airport Dike all day and watch birds. This year we will probably sit on the West side of the South Extension or between there and the SW Corner depending on water levels. A precise location will be announced before the Sit. We will start at 6 a.m. Come anytime you like but there may or may not be anyone out there between Noon and 5:00 pm, we take a break during the slow time of the day. You can call us at 801-360-8777.

We are actively recruiting people to lead local half-day field trips, any time, any place. If you would like to lead a field trip or if you have any ideas for this yearís field trips, please contact Bryan Shirley at - bt_shirley@hotmail.com

---

Captainís Log: September 2013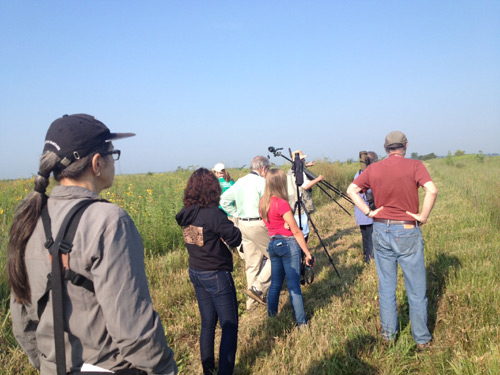 Birding the Tall Grass
Prairie- nothing but grass clear to the horizon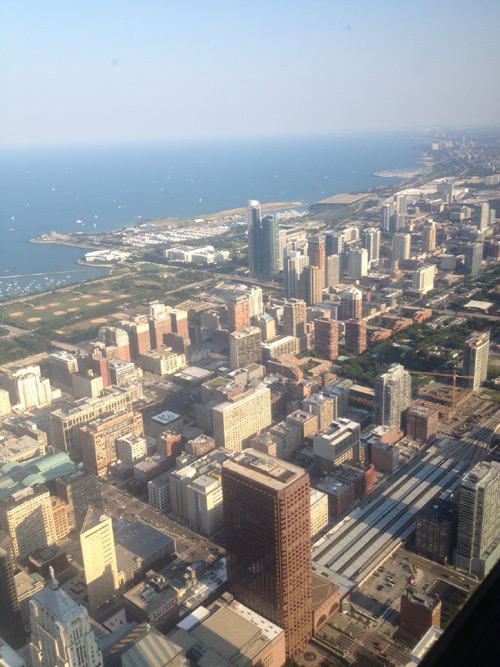 Chicago from the top of the Willis (formerly
know as Sears) Tower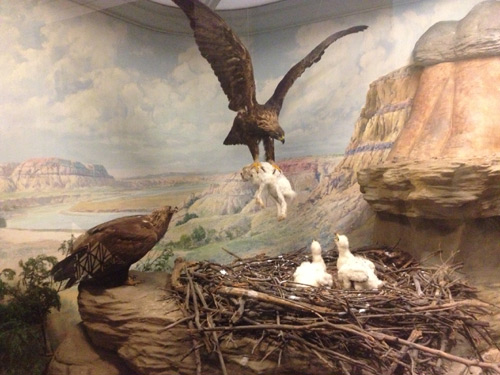 Golden Eagle exhibit at the Chicago Field Museum

by Keeli Marvel
This last month I spent a glorious week in Chicago at the American Ornithologistís Union conference surrounded by bird lovers and conservationists from all over the U.S., Canada, and various parts of the world learning about current research and work being done with bird species worldwide. Being surrounded by hundreds of like-minded individuals geeking out over birds is a beautiful thing. I met some really nice people, learned about a whole lot of fascinating research being done, took in the sights and on top of it all, got four life birds.

Field trips were organized as part of the conference and on my last day in Chicago I hopped in a van with a small group of birders and traveled to Kankakee Sands, Indiana, and area of corn fields, sod farms, and tall grass prairie. Henslowís Sparrows (my first life bird of the trip) were an easy spot from the parking lot at the visitorís center. We walked a mown path out through the tall-grass prairie fields and I got great looks at my second life bird of the trip: Dickcissel, and several other species Iíve seen only once or twice before: Orchard Orioles, Field Sparrows, and Grasshopper Sparrows. In a small wooded area we got great looks at a Bellís Vireo, and a nicely adorned tree with both Blue Grosbeaks and Indigo Buntings perched in its branches.

Further down the road in another tall-grass prairie unit we worked hard to get a few peeks at a pair of sedge wrens (life bird number three), and a resident American Bittern (first great close up look). Lunch time at Willow Slough FWA a few miles down the road produced lifer number four, a brilliantly patterned Red-headed Woodpecker. We struck out on a few other birds that would have been lifers, and warbler migration hadnít quite picked up yet but four lifers by lunch time was not too shabby!

Birding in Chicago along Lake Michigan can be quite good when migration is in full swing (a couple of weeks too late for my benefit), but thereís also plenty to see and do around town in Chicago. The Field Museum, Chicagoís premier natural history museum, has one of the best bird collections on display in the country and is definitely worth a look. The Shedd aquarium (also one of the best in the country) and the planetarium are both next door, right on the shores of Lake Michigan. Chicago has plenty to do for birders and nonbirders alike.

Happy Birding!
Keeli
---
No Bird of the Month Column this Month.

If you would like to write an article for the Bird of the Month, please contact Eric Huish - erichuish@gmail.com
Click here for past 'Birds of the Month'.
---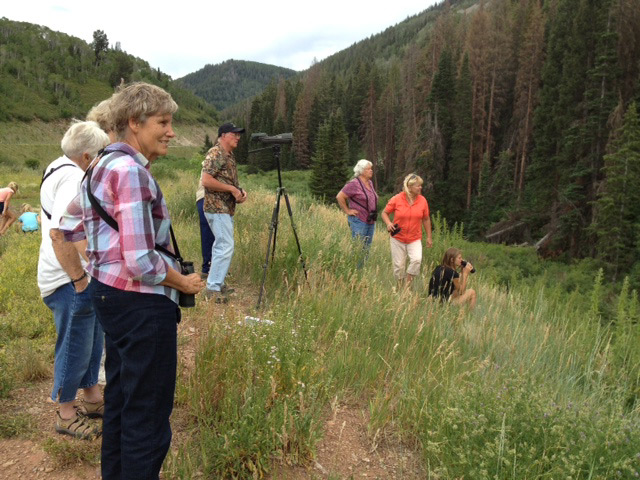 Photo by Carol Nelson
Field Trip Report
Tabiona and Duchesne Co. - 6 August 2013
Dennis Shirley led a trip to Pat Jividen's Feeders in Tabiona. They also birded other spots in Duchesne County. Pat Jividen's Hummingbird Feeders are some of the best feeders in Utah. There are good numbers of Rufous, Broad-tailed, Black-chinned, and if lucky a Calliope as well.
Carol Jean Nelson shared a video clip you can see here - Tabiona Humingbirds
---
Field Trip Report
River Lane and Swede Lane - 30 August 2013
by Keeli Marvel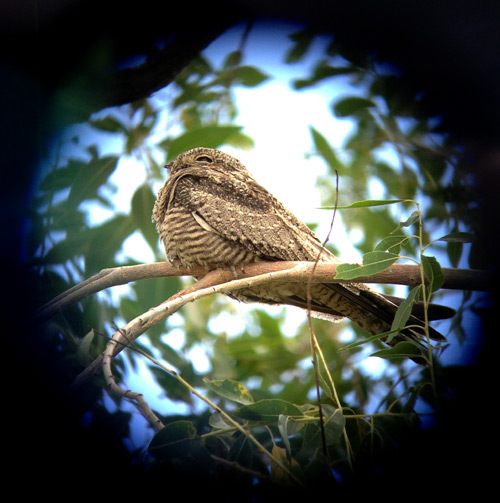 photo by Carlos Caceres
Seven birders met and traveled out to River Lane to bird early the morning of August 30th. We were met by Eric, doing some early scouting, who reported Plovers at River Lane Beach and a roosting Common Nighthawk half way down River Lane. We were later met by two more latecomers. Best birds along River Lane that morning were several roosting Common Nighthawks, plenty of swallows, and a decent assortment of warblers seen by various members of the group, including several Black-throated Grey Warblers, a couple of really sneaky Nashville Warblers (seen only by a few individuals), a Wilsonís Warbler, Townsendís Warbler (seen only by a few individuals) McGillivrayís Warbler, Yellow Warblers, Orange-crowned Warblers, a Common Yellowthroat, and a Yellow-rumped Warbler. A few individuals in the group also got glimpses of a Peregrine Falcon cruising by.

Further down on the sandy beach we struck out on the plovers seen earlier, but got Caspian and Forsterís Terns, a Willet, winter-plumage Avocets, Clarks/Western Grebes, and a few other species. Swede Lane produced more swallows, a really late season Bullockís Oriole, a Loggerhead Shrike, and a few other expected species. My vehicle struck out on the Blue Grosbeaks reported earlier along River Lane, but the other car was able to go back and see them. Overall, I think we had a good trip, and saw some pretty good early migration species trickling in. Species seen on the trip are listed below.

River Lane, Utah, US-UT
Aug 30, 2013 7:20 AM - 9:25 AM
Protocol: Traveling
1.0 mile(s)
Comments: UCB field trip
30 species

Ring-necked Pheasant 2
Great Blue Heron 1
Osprey 1
Killdeer 2
Rock Pigeon 20
Mourning Dove 5
Common Nighthawk 6
Downy Woodpecker 2
Peregrine Falcon 1
Black-billed Magpie 5
Northern Rough-winged Swallow 20
Tree Swallow 4
Bank Swallow 10
Black-capped Chickadee 5
Marsh Wren 2
Blue-gray Gnatcatcher 2
Gray Catbird 2
European Starling 30
Orange-crowned Warbler 1
Nashville Warbler 1
MacGillivray's Warbler 1
Common Yellowthroat 1
Yellow Warbler 10
Yellow-rumped Warbler (Audubon's) 1
Black-throated Gray Warbler 3
Wilson's Warbler 1
Song Sparrow 2
Western Tanager 1
Red-winged Blackbird 10
Lesser Goldfinch 4

River Lane -- Sandy Beach, Utah, US-UT
Aug 30, 2013 9:11 AM - 9:37 AM
Protocol: Traveling
0.1 mile(s)
Comments: UCB Field Trip
13 species (+2 other taxa)

Clark's Grebe 3
Western/Clark's Grebe 9
Osprey 1
Killdeer 3
American Avocet 3
Willet 1
Ring-billed Gull 2
gull sp. 40
Caspian Tern 10
Forster's Tern 1
Black-billed Magpie 4
Bank Swallow 1
Black-capped Chickadee 1
Cedar Waxwing 15
Yellow Warbler 1

Swede Lane, Utah, US-UT
Aug 30, 2013 9:50 AM - 10:41 AM
Protocol: Traveling
1.5 mile(s)
Comments:
20 species

White-faced Ibis 5
Northern Harrier 1
Red-tailed Hawk 1
Killdeer 1
American Kestrel 1
Western Kingbird 15
Loggerhead Shrike 1
Black-billed Magpie 1
Northern Rough-winged Swallow 10
Tree Swallow 1
Bank Swallow 2
Barn Swallow 3
Black-capped Chickadee 2
Marsh Wren 2
Blue-gray Gnatcatcher 2
European Starling 100
Cedar Waxwing 1
Yellow Warbler 5
Bullock's Oriole 1
Lesser Goldfinch 1

View this checklist online at http://ebird.org/ebird/view/checklist?subID=S15047491

This report was generated automatically by eBird v3 (http://ebird.org)



---
August 2013
Yvonne Carter - Highland
Scrub Jays, Chickadees, and House Finches have been busy with a few lingering hummingbirds.
Herb Clayson - Salem
Rufous Hummingbird
Jeff Cooper - Pleasant Grove
Well...I had several yard birds for what is supposed to be the slowest birding month of the year. Juvenile/female Blue Grosbeaks "tink, tinked" their way into my backyard, perched briefly in one of my Locust trees, and then flew away. Multiple Calliope Hummingbirds (including a male) visited my feeders, A Caspian Tern flew overhead, and a Say's Phoebe called and flew around my yard.

Eric Huish - Pleasant Grove
Calliope Hummingbird - A tiny female/immature bird.
Milt Moody - Provo
I've had a Western Screech-Owl calling outside my window several mornings just before dawn and in the day my (escapee) Peach-faced Lovebird has been coming every few days to chow down on the black oil sunflower seeds. It's been quite the treat!
Bruce Robinson - West Jordan
Western Wood-Pewee - Haven't had one in the yard since May.
Leena Rogers - Provo
Lazuli Bunting last day of August!
Bryan Shirley - Payson
Pinyon Jays flew over my house in Payson on Aug 28th. Also been enjoying the hummers (mostly Black-chinned
and Rufous) that are still at my feeder.
Dennis Shirley - Elk Ridge
Three Common Nighthawk - 8/30/13.

Alton Thygerson - Provo
Three Cooper's Hawks (mom was eating a quail and the fledglings were squawking) were in a neighbor's yard and caused quite an attraction of those passing by after church.

Report your favorite backyard bird each month to Eric Huish at 801-360-8777 or erichuish@gmail.com

---
Newsletter Announcement. The Utah County Birders Newsletter is now online only.
We've decided to stop the regular paper mail version of the UCB Newsletter. This will save our club on Printing, Postage and Paper. If you would like an email notice each month when the Newsletter is posted online please send an email to Eric Huish at erichuish@gmail.com or subscribe to the ucbnet mailing list. To subscribe to ucbnet just send an e-mail to ucbnet-subscribe@utahbirds.org
We are willing to print the online version of the newsletter and mail it out to anyone who still wants a paper copy or who doesn't have internet access. If you know of anyone who enjoys the UCB Newsletter but doesn't have internet access please let Eric Huish or Keeli Marvel know and we will make sure they get a copy.