Utah County Birders Newsletter
August 2013
Contents
August Meeting
Upcoming Field Trips
Captain's Log
Bird of the Month
Field Trip Report - Mirror Lake Hwy
Backyard Bird of the Month
July Hotline Highlights
---
AUGUST MEETING:
Thursday, August 8th, 2013 - 7:00 PM
Annual Summer Social

Location: Wildwood Cabins. Drive up Provo Canyon and turn left on the road to Sundance, then almost immediately
make another left. There will be a gate for Wildwood (it should be open). Follow the road along the creek to cabin
#34 and a sign for Markham. There is probably enough room to park near the cabin, but if not there is a parking area
near the gate and it is only a few minutes walk.
Bring a potluck item to share. Plates, cups, and silverware will be provided.

---
6 August 2013 (Tue): Pat Jividen's Feeders in Tabiona and Duchesne County. Leader: Dennis Shirley -
Meet at the parking lot at the mouth of Provo Canyon (behind Will's Pitt Stop Gas Station) at 7 AM.

Pat Jividen's Hummingbird Feeders are some of the best feeders in Utah. There are good numbers of Rufous, Broad-tailed, Black-chinned, and if lucky a Calliope as well. We will also bird other nearby locations for a variety mountain species.
It is a 1.5-2 hour drive from Provo. Bring a sack lunch and plan on being back sometime in the late afternoon or early
evening.
30 August 2013 (Fri): 7am to noon. Swede Lane and River Lane. Leader: Keeli Marvel - We will look for early fall migrants. Meet at the Sam's Club Parking lot in East Bay, Provo.

We are actively recruiting people to lead local half-day field trips, any time, any place. If you would like to lead a field trip or if you have any ideas for this year's field trips, please contact Bryan Shirley at - bt_shirley@hotmail.com

---

Captain's Log: August 2013
by Keeli Marvel
People talk about "hook birds" that got them hooked on birding, but I've never been able to pinpoint a single species that did it for me. Instead it was a professor and his ornithology course that got me hooked. Dr. Hal Black, now mostly retired from BYU, had a nontraditional teaching method that really hooked me in. Over the course of the semester we read poems about birds, sang songs about birds, ate fried chicken in order to learn about bird bone structure, wrote essays on feather structure and flight adaptations, and best of all, went on field trips where we learned to identify and appreciate the wealth of bird diversity around us. At a book group I attended with some friends from school a few days ago, I was reminded of a poem by John Ciardi that we had discussed one day in an ornithology class:

Who could believe an ant in theory?
A giraffe in blueprint?
Ten thousand doctors of what's possible
Could reason half the jungle out of being.

I think the same applies to even the most mundane bird species we see on a regular basis. The diversity of color and call and mannerisms in birds is amazing if you stop to think about it. We are surrounded by an amazing biodiversity of life that a lot of people are completely unaware of. Birding has made me much more aware of not just the birds, but all living things, of the physical environment and of subtle changes that signal the turning of the seasons.

Some of the great poets were very aware of the natural world and found inspiration in what they observed. As fall migration creeps up on us, I thought it would be fitting if I shared the following poem by Henry Wadsworth Longfellow:

Birds of Passage
By Henry Wadsworth Longfellow

Black shadows fall
From the lindens tall,
That lift aloft their massive wall
Against the southern sky;

And from the realms
Of the shadowy elms
A tide-like darkness overwhelms
The fields that round us lie.

But the night is fair,
And everywhere
A warm, soft vapor fills the air,
And distant sounds seem near,

And above, in the light
Of the star-lit night,
Swift birds of passage wing their flight
Through the dewy atmosphere.

I hear the beat
Of their pinions fleet,
As from the land of snow and sleet
They seek a southern lea.

I hear the cry
Of their voices high
Falling dreamily through the sky,
But their forms I cannot see.

O, say not so!
Those sounds that flow
In murmurs of delight and woe
Come not from wings of birds.

They are the throngs
Of the poet's songs,
Murmurs of pleasures, and pains, and wrongs,
The sound of winged words.

This is the cry
Of souls, that high
On toiling, beating pinions, fly,
Seeking a warmer clime,

From their distant flight
Through realms of light
It falls into our world of night,
With the murmuring sound of rhyme.

Happy Birding! - Keeli Marvel

---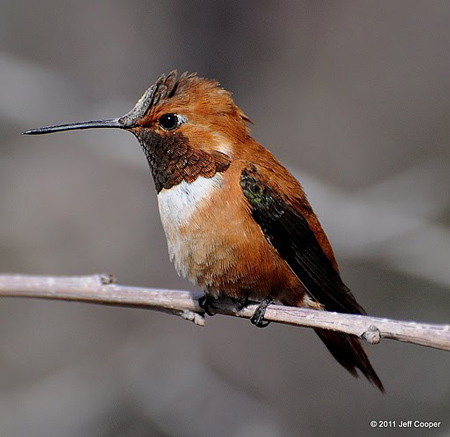 photo by Jeff Cooper
Rufous Hummingbird
(Selasphorus rufus)
by Eric Huish

There are a few bird arrivals we all look forward to each year. In late summer when birding reaches a lull we all wait for the first Rufous Hummingbirds to show up at our feeders, usually mid to late July. I have always found Rufous Hummingbird Migration interesting. Every year I get several Rufous Hummingbirds visiting my feeders every day on their fall migration from late July to mid September. But I have only once seen a Rufous here in the Spring - on April 25, 1998. Rufous Hummingbirds migrate in a big circle following the flowers. They winter in Mexico. In spring they follow the blooming flowers up the coast of California when our mountains are still covered in snow. They summer in the Pacific Northwest. Then when the mountain meadows are in full bloom they migrate South through the interior West and we get to see them at our feeders.
Rufous Hummingbirds are one of the easier hummingbirds to identify here in Utah. We don't get Allen's here (probably). Most male Rufous Hummingbirds are bright orange all over and adult female Rufous also have a lot of rusty orange color, even a few shiny feathers on the throat unlike our other female hummingbirds we see in Utah. Immature birds can be tricky and some can be very difficult to tell apart from immature Broad-tailed or Calliope.
Rufous Hummingbirds are energetic and fun to watch so put out a hummingbird feeder and enjoy.


If you would like to write an article for the Bird of the Month, please contact Eric Huish - erichuish@gmail.com
Click here for past 'Birds of the Month'.

---
Field Trip Report
Mirror Lake Hwy - 20 July 2013
by Keeli Marvel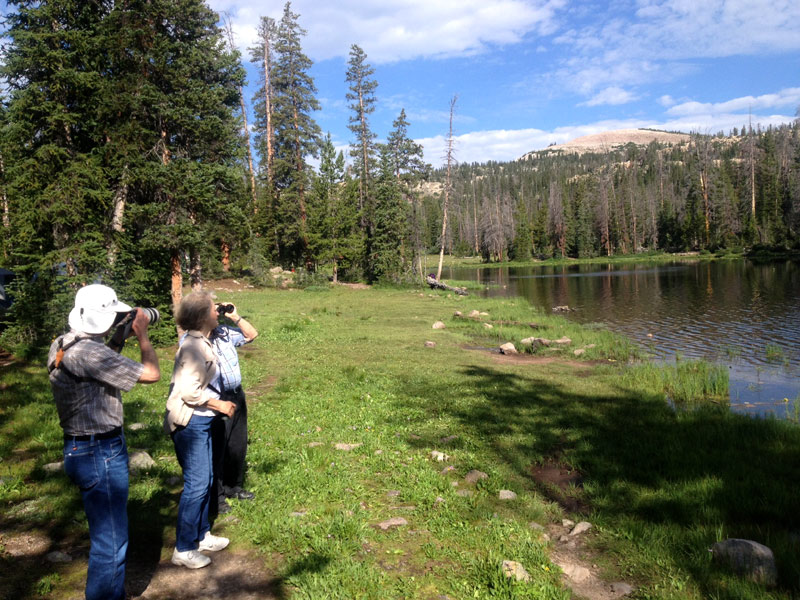 photo by Keeli Marvel
July 20th UCB Field Trip Report: Mirror Lake Hwy

Four birders met on the morning of July 20th for a trip up Mirror Lake Hwy. We drove straight to out first stop, which was Butterfly Lake (2.5 miles past the Mirror Lake turnoff), where we spent a little time wandering around the trails opposite the highway from the lake and a little ways around the lake itself. There we got good looks at a bright red-crested male Cassin's Finch, a drably colored Pine Grosbeak, and a Clark's Nutcracker. We also saw/heard plenty of American Robins and White-crowned Sparrows. Also heard only at this location was a Hermit Thrush.

We continued back down the highway from there to Mirror Lake Campground. We birded the first campground loop immediately to the right as you enter the Mirror Lake use area where an empty camping spot produced more vocal Clark's Nutcrackers, Mountain and Black-capped Chickadees, Red-breasted Nuthatch, Chipping Sparrow, a Yellow-rumped Warbler, and more White-crowned Sparrows. While birding that spot we were stumped by a call similar possibly to a grosbeak that we just couldn't match any of our birding app calls to. Continuing on to the day use parking area we had to find our own parking spot on the side of the road as the parking lot had already filled up for the day. We wandered through the rest of the campground and swung back along the lake, picking up some more close-ups of White-crowned Sparrows, Chipping Sparrows, and Pine Siskins.

After leaving Mirror Lake Campground, we tried for a couple of stops at the Bald Mountain trailhead, and the Trial Lake area, but crowds were everywhere and we didn't pick up any new birds.

Our last stop of the day proved fairly birdy. We pulled into the turnoff for Soapstone Basin and parked by the little one-lane bridge next to the river. There in the marshy area we were able to call in a Western-wood Peewee that practically landed on our heads. We also got great looks at a Red-naped Sapsucker on a large dead snag in the marsh. We heard a Swainson's Thrush calling, and saw a couple of Cedar Waxwings perched on sticks in the marsh. Other birds seen/heard there included a Yellow Warbler and a Song Sparrow.

The Gray Jays and American Three-toed Woodpecker were both a miss for this trip, but in spite of the unanticipated crowds, I think we had a good time and saw some good birds.


---
July 2013

Herb Clayson - Salem
Rufous Hummingbird


Eric Huish - Pleasant Grove
Western Screech-Owls - I heard the calls of excited robins one evening at dusk. Being fluent in Robin I knew what was out there. I ran out in my PJs and saw and heard and family of owl. At least one adult and a couple of young birds.

Norman Jenson - Sandy

I just got a new backyard bird, a male Western Tanager! Wow!


Leila Ogden - Orem
My favorite back yard bird is the 3 Western Scrub-Jays that come every day for peanuts. Still won't eat from my hand, but I'm getting closer and closer. They are afraid of my small dog.

Bruce Robinson - West Jordan
Rufous Hummingbird, although they have taken over the feeder!

Alton Thygerson - Provo
Rufuous Hummingbird - The only thing I do not like about this bird is its aggressiveness.


Report your favorite backyard bird each month to Eric Huish at 801-360-8777 or erichuish@gmail.com

---
Newsletter Announcement. The Utah County Birders Newsletter is now online only.
We've decided to stop the regular paper mail version of the UCB Newsletter. This will save our club on Printing, Postage and Paper. If you would like an email notice each month when the Newsletter is posted online please send an email to Eric Huish at erichuish@gmail.com or subscribe to the ucbnet mailing list. To subscribe to ucbnet just send an e-mail to ucbnet-subscribe@utahbirds.org
We are willing to print the online version of the newsletter and mail it out to anyone who still wants a paper copy or who doesn't have internet access. If you know of anyone who enjoys the UCB Newsletter but doesn't have internet access please let Eric Huish or Keeli Marvel know and we will make sure they get a copy.