Utah County Birders Newsletter
May 2013
Contents
May Meeting
Upcoming Field Trips
Captains Log
Bird of the Month
Field Trip Report - Henefer Lek, East Canyon
Backyard Bird of the Month
April Hotline Highlights
Newsletter is now Online Only
---
MAY MEETING:
Thursday, May 9th, 2013 - 7:00 PM

Butterflies of Utah presented by Tony Jones.

Meet at 7:00 PM at the Orem Public Library - 58 North State Street, Orem. We meet downstairs.
---
Our annual Utah County Big Month is the month of May this year. Last year we did April and saw 146 bird species on the eleven half-day field trips. May should be the "biggest" month of the year, and we should see in the neighborhood of 160-180 species. This UCB Big Month will be the fourth month we've done. If there is one month of the year that you must be out birding, it is May. So get some sleep the next couple of nights and be ready to go on Wednesday. Like years past, it will be great fun!!

May 1 (Wed.) either 5:00 a.m. (for early bird Sage Grouse Lek) or 7:00 a.m. - 12:00 p.m. - Salem, Benjamin Slough, Lincoln Point. Meet at mouth of Spanish Fork Canyon - Chevron Station (5:00 a.m.) or Payson Walmart (7:00 a.m.)

May 4 (Sat.) 7:00 a.m. - 12:00 p.m. North Utah County, Powell Lake, Saratoga Springs, Eagle Mountain, Cedar Valley. Meet at Lehi McDonalds.

May 7 (Tues) 7:00 a.m. - 12:00 p.m. West Provo, Skipper Bay, Provo Airport Dike, Utah Lake State Park. Meet at South University Ave., Sam's Club.

May 11 (Sat) 7:00 a.m. - 12:00 p.m. Southwest Utah Co., Santaquin, Genola, Goshen, Goshen Canyon, Elberta. Meet at Payson Walmart.

May 15 (Wed) 7:00 a.m. - 12:00 p.m. Spanish Fork Canyon, Diamond Fork Canyon, Sheep Creek, Dairy Fork. Meet at mouth of Spanish Fork Canyon - Chevron Station.

May 17 (Fri) 7:00 a.m. - 12:00 p.m. Provo Canyon, South Fork, Sundance. Meet at mouth of Provo Canyon - Will's Pit Stop.

May 22 (Wed) 7:00 a.m. - 12:00 p.m. Tintic Mts., Dividend, Eureka, South Cedar Valley. Meet at Payson Walmart.

May 25 (Sat.) 7:00 a.m. - 12:0 p.m. Chimney Rock Pass area. Meet at Payson Walmart.

May 29 (Wed) 7:00 p.m. - 11:00 p.m. Payson and Santaquin Canyons (Owling)! Meet at Payson Walmart.

May 31 (Fri) 7:00 a.m. - 12:00 p.m. Mop Up!! Will go after missed and specialty species. Meet at Payson Walmart.


We are actively recruiting people to lead local half-day field trips, any time, any place. If you would like to lead a field trip or if you have any ideas for this year's field trips, please contact Bryan Shirley at - bt_shirley@hotmail.com

---

April Captains Log
by Keeli Marvel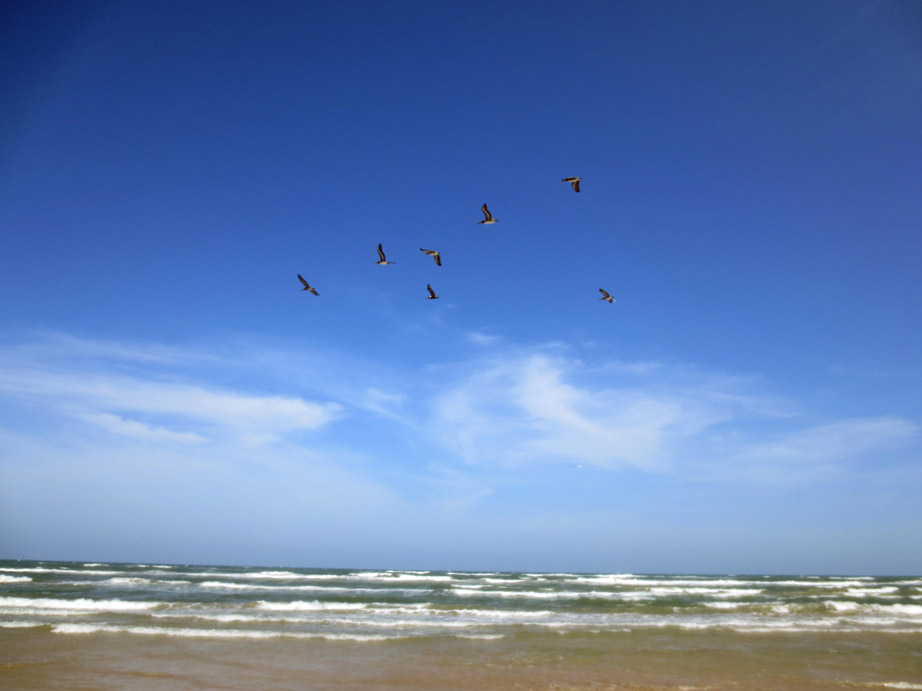 Brown Pelicans at Padre Is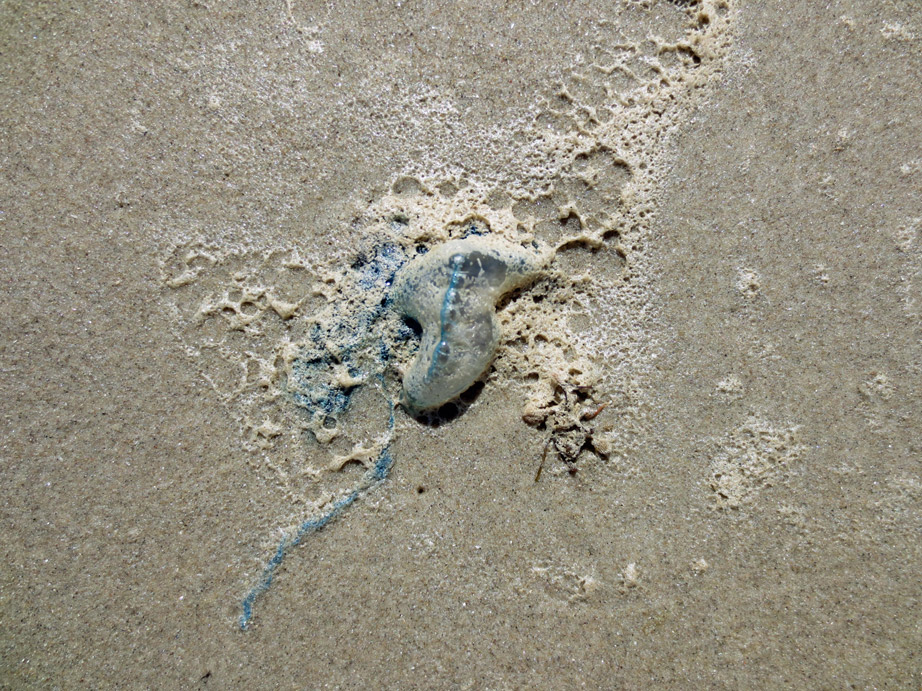 Portuguese man o war
Birding San Antonio

Birding San Antonio…continued

Following a very successful field trip at Olmos Park in San Antonio, I was eager to venture a little further out away from the city for a trip the following weekend to the Mitchell Lake Audubon Center. The center is located south of San Antonio on a gated 1200 acre natural area that includes lakes, wetlands, riparian, and upland habitat and was established in partnership with the San Antonio Water System. In addition to the birding trails and road systems around the ponds, there is also a historic house that was restored and is used as the visitor center and is surrounded by xeriscaped garden trails. I met a group there for one of their weekly Saturday morning bird walks.

One of the things that struck me about this birding trip in particular was that when I joined the group, I instantly felt at home – as I told my husband on the phone later that day – I'd found my people. They were instantly welcoming and eager to show me their local birds. Our first stop on the trip produced a flock of black-bellied whistling ducks on one of the ponds – a lifer for me. We followed that up with a Little Blue Heron, and a Tri-colored Heron, also both lifers. A walk up a path along a small stream produced a fourth lifer – a White-eyed Vireo, and a fifth- an Orchard Oriole. We continued our drive around some recovered sewage ponds and found a pair of lovely pink Roseate Spoonbills wading in the mudflats – a big highlight of the trip for me. The mudflats around the ponds were loaded with wading birds and we saw six different sandpiper species: Pectoral, Least, Baird's, Spotted, Solitary, and Stilt Sandpipers. On the way back to the visitor center I saw another lifer – a Scissor-tailed flycatcher, also another highlight of the trip showing off its unique tail. Overall I think we ended the morning with around 53 species, at least seven of which were life birds for me. We finished the trip with some good Mexican food at a local dive, and I parted with some great advice for chasing down a few other species unique to the area.

After parting ways with the group, I followed directions from one of the other birders, and found a Crested Caracara walking around in an agricultural field. Lifer number eight for the day! What a cool bird! They look like they are leftover from prehistoric times. In the same area I also observed a kettle of Turkey Vultures and Black Vultures circling around and around on the thermals. I drove through a riparian area bordered by a few farms and houses and saw a Greater Roadrunner being true to its name, a few Northern Cardinals, and an Indigo Bunting in all its blue gloriousness. What a great day of birding with great people! I cannot say enough what a nice place the Mitchell Lake Audubon Center was and how welcoming the other birders were!

Training had me cooped up most of my final week in San Antonio, but I had big plans for my last day and a half there. As soon as we took our final exam (aced it!), one of my fellow trainees and I hopped in the car and drove out to Corpus Christie to spend the rest of the day on the coast. We stopped for dinner at a place along the channel that leads to Corpus Christi Bay, and I saw a bunch of Laughing Gulls, another Tricolored Heron wading in the marsh, and a White Ibis, which is actually white, unlike our White-faced Ibis which is named for possibly the least noticeable characteristic possible.

From there we drove out at the Padre Island National Seashore, where we saw another Crested Caracara cruising along the sand dunes. We went for a walk on the beach and saw some small blue Portuguese Man O' Wars washed up on the sand. At certain times of the year these sea creatures show up en masse and create treacherous swimming conditions for visitors because of the painful sting they can deliver if you come into contact with their tentacles. No swimming for us that day!

The next day was my last morning in San Antonio, and I spent it wandering around the San Antonio Botanical Gardens. I saw quite a few birds, mostly species I'd seen earlier in the trip, but I managed to get one more lifer – a Long-billed Thrasher - which stared me down inquisitively from the undergrowth with its bright yellow eyes. I think I ended the trip with close to 15 life birds. One disappointing miss was the Painted Bunting. I'd really hoped to see one, and I spent a little time one morning out in the Government Canyon State Natural Area looking for them without any luck. I also didn't have time to drive south to see any of the Central American specialties that venture up into the southern most parts of Texas. I certainly gained a better understanding of how big the state really is, and a desire to return to see more of it. If anyone is visiting the San Antonio area in the future, I've got some great recommendations on where to eat and where to bird!



---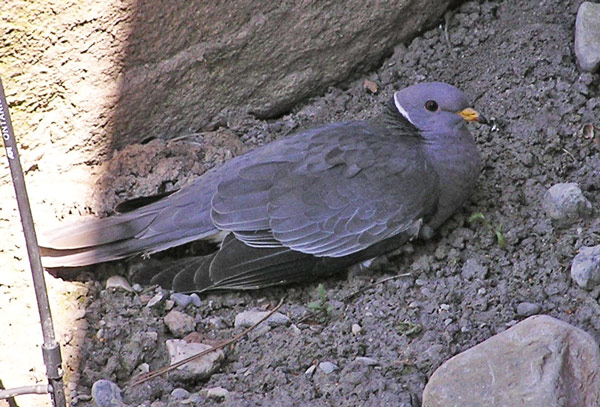 Sergeant Gray by Milt Moody
Band-tailed Pigeon
(Patagioenas fasciata)
by Milt Moody

Band-tailed Pigeons usually show up in our part of Utah around April or May and apparently they've learned that they can find some fast food in the yards of some generous humans down in the valleys when they arrive. They show up at Deedee O'Brien's place in East Millcreek pretty much like clock work every year and lately they've been showing up on the telephone lines between my house and my nieces house about nine blocks, as the pigeons fly, to the southwest.

A couple of years ago one of them was attacked by a cat in my nieces yard and ended up finding refuge (and incarceration) in a window well underneath a grating with a window looking into a downstairs play room. I, being the bird expert of the family, was called for advice. Seeing a primary feather poking out in a very unnatural way, I assumed that it was not capable of flying – otherwise it would have flown away from the cat – so I figured we could provide the bird with food and water and see if it could recuperate.

The kids in the play room got used to the bird and the bird got used to them. They called him "Sergeant Gray" and they performed for him and by mid-summer he was strutting around, marching back and forth, for them in a very self confident manner.

Most of Sergeant Gray's friends who had arrived probably from the Sierra Madre mountains in north central Mexico, would find a mate, move into the pines up in the mountains, build a flimsy platform nest, incubate usually one egg for 18 to 20 days and they would have a young pigeon that would leave the nest after about 30 days of parental care. Instead, Sergeant Gray was getting to know a human family that seemed to like him – apparently very much.

Because Band-tailed Pigeons tend to nest in the same area, though at a discrete distance from one another, Sergeant Gray's ancestors where almost hunted to extinction in the first half of the last century. The hunters of the population along the west coast of the US extending up into British Columbia in the summer time, would find fairly large flock at the mouth of canyons where different varieties of oak tree provided acorns, which along with other nuts and berries, these birds like to eat. These flocks of the largest pigeon in the country were easy prey for these hunters and others in Mexico and inland. Other pigeons in the US are more likely to lay two eggs and sometime more, so their population are more easily replenished. Sergeant Gray was probably lucky to be around to be attacked by the cat. But maybe his luck was about to run out.

After a summer of food and fun in the window well, the sergeant was looking healthy even spiffy, but it was time for him to try his luck out in nature, so we shooed him into a cardboard box and took him up to the nearby mouth of Rock Canyon, sprinkled some black-oil sunflower seed around on the ground – a little snack for the road – and let him out. We moved across the ravine and watch our friend explore his new surroundings. He tried to fly a little bit and made a twenty-foot flutter but returned to exploring the ground. He still had a couple of months to prepare for his return south which usually happens by the end of October. We watched for a while and then retired back to our vehicle with a ting of sadness mixed with visions of hope for Sergeant Gray.

When the Band-tailed Pigeons return these days, I think of Sergeant Gray, welcome his relatives back to Utah and wonder if Sergeant Gray, himself, may one day appear.


If you would like to write an article for the Bird of the Month, please contact Eric Huish - erichuish@gmail.com
Click here for past 'Birds of the Month'.

---
Field Trip Report
Henefer/East Canyon Lek - April 20th, 2013
by Keeli Marvel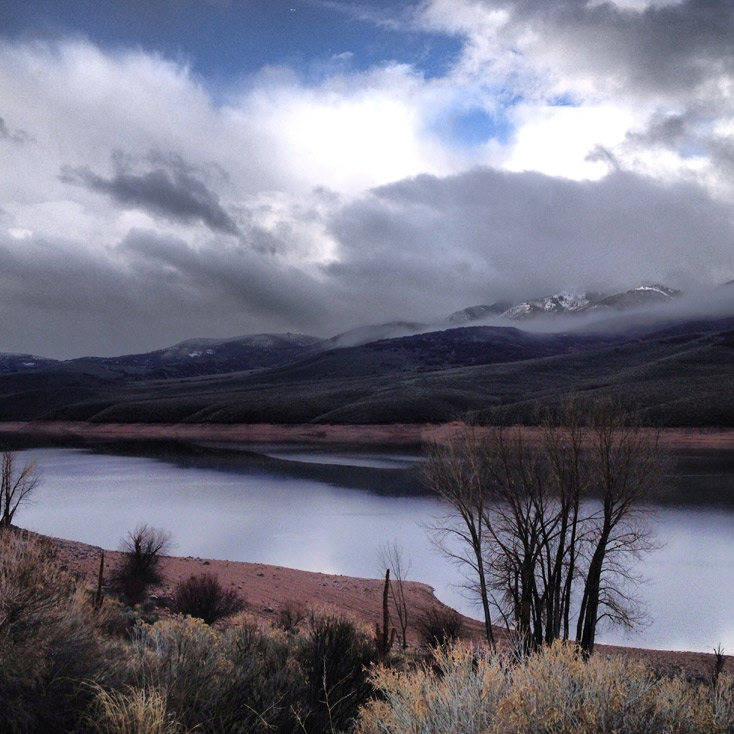 East Canyon - photo by Keeli Marvel
7 Birders met in the early morning to go to the Greater Sage-grouse lek at East Canyon. The weather was drizzly, and the birds seemed a little less active than usual, but they were present and strutting their stuff. We got a high count of 16 males. We had two vehicles in our party, and only one other vehicle showed up to see the grouse. Maybe the bad weather scared the rest away? From there our group traveled down to East Canyon Reservoir where we saw Common Loons, Common Mergansers, a Ruddy Duck, Osprey, and a few other local species around the reservoir. We picked up some Vesper Sparrows where the roads meet at the northeast end of the reservoir, and we saw a pair of Golden Eagles soaring over one of the farms on the road heading back to Henefer. Several of our group picked up lifers (the Greater Sage-grouse and Common Loons were lifers for a couple of birders). Overall, in spite of the cool wet weather, we saw some good birds and had a good trip.


---
April 2013
Lyle Bingham - Payson
My favorite bird is the Lazuli Bunting. We had 22 at the feeder tonight.
Yvonne Carter - Highland
Finally on the last day of April a Lazuli Bunting appeared, along with a White-crowned Sparrow!
Jeff Cooper - Pleasant Grove
Some people may think I'm crazy, but I've enjoyed watching a pair of Black-billed Magpies build a nest in a spruce tree that separates my yard from a neighbor's yard. I'm kind of curious to see if they are successful breeders this year. They abandoned the nest last year.

Eric Huish - Pleasant Grove
So many great birds to choose from this month but I think my favorite was a flock of 20 Evening Grosbeaks.
Milt Moody - Provo
I had three Cedar Waxwings come to my bird bath to get a drink and spruce up.

Leila Ogden - Orem
Two huge Swainson's Hawks spent the evening and night in a huge tree in my neighbor's yard. One was a light morph and the other was a dark morph. They left early the next morning. They were probably blown off course by a big wind.

Bruce Robinson - West Jordan
American Robin - I didn't have much time to bird!! :)

Dennis Shirley - Elk Ridge
After compiling my April bird summaries I stepped into the back yard just before sundown on the 30th, and what did my eyes behold but a male Black-headed Grosbeak.

Kay Stone - Lehi
April 29, I had one Lazuli Bunting under my feeder for about a minute. I've been waiting for them.
Report your favorite backyard bird each month to Eric Huish at 801-360-8777 or erichuish@gmail.com

---
Newsletter Announcement. The Utah County Birders Newsletter is now online only.
We've decided to stop the regular paper mail version of the UCB Newsletter. This will save our club on Printing, Postage and Paper. If you would like an email notice each month when the Newsletter is posted online please send an email to Eric Huish at erichuish@gmail.com or subscribe to the ucbnet mailing list. To subscribe to ucbnet just send an e-mail to ucbnet-subscribe@utahbirds.org
We are willing to print the online version of the newsletter and mail it out to anyone who still wants a paper copy or who doesn't have internet access. If you know of anyone who enjoys the UCB Newsletter but doesn't have internet access please let Eric Huish or Keeli Marvel know and we will make sure they get a copy.