Utah County Birders Newsletter
June 2011
Contents
June Meeting
Upcoming Field Trips
President's Message
Bird of the Month
Field Trip Report - Provo Airport Dike
Backyard Bird of the Month
May Hotline Highlights

---
JUNE MEETING:
Thursday, June 9th, 2011
Throughout the summer we are going to take a break from the regular meetings at the Bean Museum and have short field trips on that night instead. In June
we will be going to Goshen to bird for the evening
. We will look for bobolinks and then try to see short-eared owls just before dark. There was a pair seen there last week so hopefully we can find them again.
Meet at the Payson Walmart at 7 PM
. Dennis Shirley will be leading the field trip.
---
Beginning birders are welcome.
June 3rd (Fri): 7am-1pm. Antelope Is. Causeway and Garr Ranch. Led by Keeli Marvel. Note that this trip is on a Friday, not Saturday. Meet at the American Fork Main St. Park and Ride (West side of I-15 on Pioneer Crossing) at 7am.
June 9th (Thur): 7:00pm-dark. Dennis Shirley will lead us to Goshen to bird for the evening. We will look for bobolinks and then try to see short-eared owls just before dark. There was a pair seen there last week so hopefully we can find them again. Meet at the Payson Walmart at 7 PM.
June 14th (Tue): 7pm-dark (or possibly later). Lyle Bingham will lead an
evening field trip to a few hot spots in Payson
. Meet at 7pm at the Payson Walmart.
June
25th (Sat):

7am-noon.

Highland Glen Park.

Led by Keeli Marvel. Meet at the American Fork Park and Ride at 7am. The park and ride is west of I-15 - AF Main Street / Pioneer Crossing exit.


We are actively recruiting people to lead local half-day field trips, any time, any place. If you would like to lead a field trip or if you have any ideas for this yearís field trips, please contact Keeli Marvel at -

keeli.marvel@gmail.com.



---
by Bryan Shirley, UCB President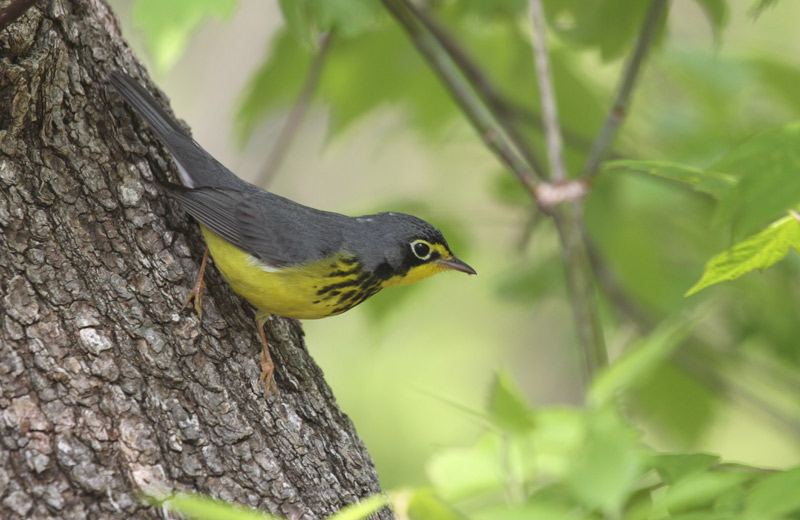 Canada Warbler by Bryan Shirley
Birding Magee Marsh

The first week of May I was lucky enough to get to bird at one of my favorite birding locations in the entire US Ė Magee Marsh. If you arenít familiar with it, it is THE place to be during migration. Warblers make up the bulk of the excitement, but it gets decent numbers of all the eastern passerine species.

Magee Marsh is located about 30 minutes East of Toledo, Ohio. It is just below Lake Erie, so when birds flying north to breed are reluctant to fly across the lake they often times end up at Magee Marsh. The primary birding area is a boardwalk that goes through some woods between the marsh and the lakefront. The trees are relatively short, plus in early May there arenít a lot of leaves yet.

This was my first trip to Magee Marsh in several years and I was excited thinking of all the great birds and good times with friends there over the years. When I arrived I parked and headed toward the boardwalk. I paused to reminisce about the time I locked the keys in the van just as it started to rain. While we waited for a locksmith we hid out from the rain under a big tree and saw a Blackpoll Warbler here! Good timesÖ

This trip I visited the boardwalk 3 times and each time was different. The first time was May 10th in the morning. The birding was ok, but it was so crowded and too much like a carnival so I didnít stay too long. I still got 16 species of warblers in about an hour. There were other warblers around, but I wasnít going to fight the crowds and left disappointed.

I decided to try it again on the afternoon of May 12th. I donít know if it was luck or if afternoon is always better, but this was a much better day. There were lots of birds and not so many people. This was more like the Magee Marsh I remember. I ended the day with 19 warblers in a couple of hours birding.

The best day of the 3 was the last day, May 17th. There had been a strong wind blowing from the North for 2 days keeping all birds hunkered down on the lakeshore waiting for the weather to change. I only had about 2 hours, but got 19 species of warblers that day as well. The incredible thing was the views. I hardly used my binos all day because the birds were too close! Many times the birds were within armís reach and didnít seem to care we were there. At first I kept trying to back up to get photos, but eventually I just gave up and enjoyed watching the birds within 2 or 3 feet.

I know I have got more than 19 warbler species in one day there before, but never like this. It was one of those amazing days I will never forget.

Including a few days around Michigan, I ended the trip with 28 warblers and lots of great memories. It reminded me of why warblers are my favorite bird family and why if I could bird 1 day anywhere in the US I would pick Magee Marsh.


---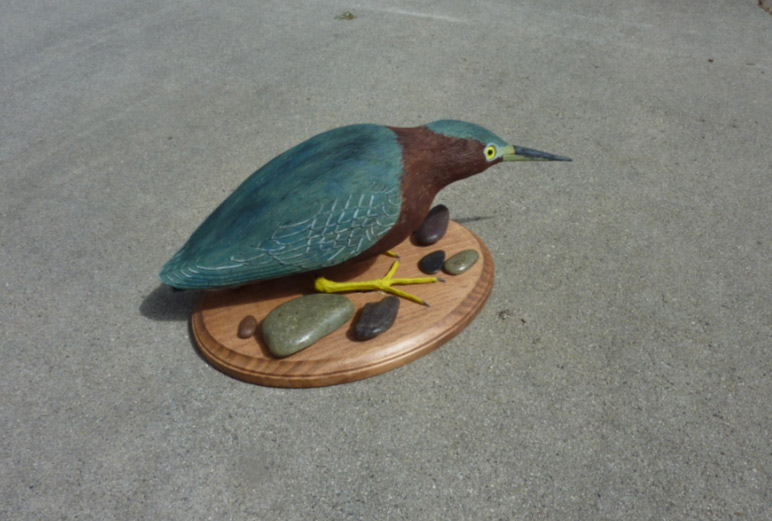 photo of a full-sized wood carving of a Green Heron, carved by Steve Carr
GREEN HERON
Butorides virescens
by Steve Carr

The Green Heron (Butorides virescens) is the smallest member of the heron family (Ardeidae) in North America, except for the tiny Least Bittern. It measures 18 inches long when fully stretched out, which it almost never is except when diving for prey. When usually observed, its neck is tightly pulled into the shoulders giving it a somewhat scrunched-up look, so that it is more nearly 13-14 inches long. Wingspan is 26 inches.

The greenish coloration is almost more of a blue-green on the wings, crown, and long filamentous plumes on the back. The face, nape, throat, and chest are a deep chocolate brown and the legs and feet are yellow. In its usual darkened habitat the bird appears almost black.

The habitat usually consists of the edges of swamps and marshes, among cattails, bulrushes, and other marsh reeds, and along slowly moving streams in darkened forests. They usually are seen alone or with one or two others, perched quietly on a stream bank or submerged log intently watching for errant fish or frogs or invertebrate animals to swim by. On the other hand, I have seen them in a dry field full of old sunflower stalks, hundreds of yards from the nearest water, feeding on crickets and other grasshopper-like insects. If disturbed, they may act like bitterns in freezing next to some vegetation, or they may suddenly take flight with a loud squawk. When flying, they take on the appearance of a crow Ė fairly rapid, deep wingbeats, compared to the larger herons and egrets. They also readily fly in and land on trees and bushes up to 15-20 feet tall. They nest in a variety of locations, including willow thickets, open marsh, and wooded areas from 5 to 35 feet high. Three to five pale greenish-blue eggs are laid and both parents do the incubating for about 20-21 days. Chicks are altricial and begin to fly at three weeks.

Green Herons are among very few North American birds known to use tools to forage. It has been observed to drop a feather, small leaf, or a tiny twig onto the water, so that when a fish swims up to investigate this possible food source for itself, it becomes prey for the heron.

In the 1940ís, the bird was known as Anthonyís Green Heron or Eastern Green Heron, as well as Green-backed Heron. In fact, Volume 1 of Handbook of the Birds of the World, published in 1992, p. 417, still lists it as Green-backed Heron, where it is still lumped with what is now known as the Striated Heron (Butorides striatus). Then, in about 1995, after being split from the Green Heron, the Striated Heron is the common small heron of the eastern hemisphere and South America.

Range maps for this species are a little disconcerting. They all show the large breeding range east of the Rocky Mountains up to southern Ontario and barely into Manitoba. Also shown is the western range up the west of the Cascade Mountains to Vancouver, BC. Permanent range includes the Gulf Coast from Florida to Texas and down into Mexico, all of Central America, and the Caribbean area. Most of California and the Baja Peninsula are also covered. One map shows the permanent range up along the entire Atlantic seaboard, another shows nothing there. One map
shows several breeding areas in New Mexico, Arizona, and southern Utah. Another shows almost nothing in Arizona and New Mexico, but a permanent range up along the Colorado River into the St. George, Utah, area. There are at least two to three pairs in the St. George valley around several golf courses, the Tonaquint Nature Center, and along the Virgin River. According to the Utah Bird Checklist, the Green Heron has been seen in the following 13 counties: Beaver, Davis, Emery, Grand, Juab, Millard, Morgan, Rich, Salt Lake, Uintah, Utah, Washington, and Wayne. I have
personally seen them in Washington, Davis, and Salt Lake counties. Surprisingly, the bird has been seen in such far away places as the Azores Islands off Africa, Great Britain, Greenland, and Hawaii.

Bird Guide, Part 1, Water and Game Birds, and Birds of Prey, Chester A. Reed, Worcester, Mass.,
1908.

Birds of North America, A Golden Field Guide, Chandler Robbins, et al., Golden Press, 1966.

Complete Birds of North America, National Geographic Society, Washington, DC, 2006, p.119. A Field Guide to the Birds (Eastern and Western editions), Roger Tory Peterson, Houghton Mifflin Company, Boston, 1934, 1941.

Field Guide to the Birds of North America, National Geographic Society, Washington, DC, 1999. Handbook of the Birds of the World, Lynx Edicions 1992, Volume 1, pp. 417-418.

Lives of North American Birds, Kenn Kaufman, Roger Tory Peterson Institute, 1996, p. 58.

The Sibley Guide to Birds, Sibley, David A., National Audubon Society, 2000. (Also available in the
Sibley Guide to Western Birds.)

---------
If you would like to write an article for the Bird of the Month, please contact Oliver Hansen -- 801-378-4771 - byucactus@gmail.com .
Click here for past 'Birds of the Month'.

---
Field Trip Report
Provo Airport Dike - 24 May 2011
by Eric Huish

Seven Utah County birders meet at 5:30 pm on a Tuesday evening to bird the Provo Airport Dike. We drove the dike counterclockwise, starting at the north end. By the time we reached the east end it was starting to get dark .

There were Western Tanagers and Swallows everywhere. We saw an Olive-Sided Flycatcher at the Northwest corner, just after leaving the woods. There were also a couple of Wilson's Warblers, a Green-tailed Towhee and a few White-throated Swifts in this area. We saw a Northern Mockingbird, a Vesper Sparrow, two fly-by Black-necked Stilts and heard a few singing Common Yellowthroats along the west extension. Some of the group saw a second Olive-sided Flycatcher between the west extension and the control tower. We heard a singing Savannah Sparrow between the Southwest corner and the South extension. In the fields at the East side of the South extension there were some baby killdeer. Around sunset Black-crowned Night-Herons started coming out of their hiding places.

One of my favorite moments was watching a Great Blue Heron execute some interesting aerial maneuvers against the sunset as a blackbird was attacking it in mid-flight. The lighting was beautiful at sunset.

We saw a total of 63 species.
Canada Goose 12
Mallard 3
Cinnamon Teal 4
Redhead 1
California Quail 1 Heard Only
Ring-necked Pheasant 1 Heard Only
Western Grebe 2
Clark's Grebe 1
Western/Clark's Grebe 5
Double-crested Cormorant 1
Great Blue Heron 3
Black-crowned Night-Heron 4
White-faced Ibis 20
Northern Harrier 2
Virginia Rail 3 Heard Only
American Coot 2
Sandhill Crane 1 Heard Only
Killdeer 7 5 were Babies.
Black-necked Stilt 2 Flying along lakeshore, west side of loop.
Spotted Sandpiper 1
Caspian Tern 2
Forster's Tern 2
Mourning Dove 5
White-throated Swift 3 at the North end of the dike.
Black-chinned Hummingbird 1
Northern Flicker 1
Olive-sided Flycatcher 2
Cordilleran Flycatcher 1
Empidonax sp. 1
Western Kingbird 10
Eastern Kingbird 3
Warbling Vireo 1
Black-billed Magpie 1
Northern Rough-winged Swallow 10
Tree Swallow 150
Violet-green Swallow 5
Bank Swallow 40
Barn Swallow 10
Cliff Swallow 30
swallow sp. 200
Marsh Wren 30
Blue-gray Gnatcatcher 1
Hermit Thrush 1
American Robin 5
Northern Mockingbird 1 On west extension.
European Starling 1
Orange-crowned Warbler 1
Yellow Warbler 10
Yellow-rumped Warbler (Audubon's) 20
Common Yellowthroat 5
Wilson's Warbler 2
Green-tailed Towhee 1
Chipping Sparrow 4
Brewer's Sparrow 1
Vesper Sparrow 1
Lark Sparrow 1
Savannah Sparrow 1 Heard Only
Song Sparrow 5
White-crowned Sparrow 4
Western Tanager 30
Red-winged Blackbird 40
Western Meadowlark 3
Yellow-headed Blackbird 50
Brown-headed Cowbird 10
Bullock's Oriole 6
American Goldfinch 1

---
Backyard Bird of the Month
May 2011
Steve Carr - Holladay
The turquoise-blue of the Lazuli Buntings and the bright pinkish-red of the Cassin's Finches really enliven the yard.

Eric Huish - Pleasant Grove
Yard lifer #100!!!! I was filling my feeders in the morning before work when I heard a Caspian call. I had my headphones on and assumed I was hearing things, but then it called again. I looked up and sure enough, there was a Caspian Tern flying directly over the yard, heading North.

Alton Thygerson - Provo
Cooperís Hawk ó unsuccessful in finding a meal

Milt Moody - Provo
A MacGillivray's Warbler has shown up several times in my yard in May.

Dennis Shirley - Elk Ridge
Had a pair of Lark Sparrow along with 30 other species on 5/30/11.

Harold Clayson - Salem
Since May1st I have Mourning Doves on a flimsy nest in a plum tree.

Yvonne Carter - Highland
We are overwhelmed with Lazuli Buntings, Black-headed Grosbeaks, plus many others and new yard bird for me is a Chipping Sparrow.

Cheryl Peterson - Provo
Cordilleran Flycatcher

Send your backyard bird of the month to Cheryl Peterson (375-1914 or cherylpeterson@gmail.com) by the end of each month.
---
2011 Dues
Thanks to all who have supported us in the past. If you are interested in officially joining us this year, make out a check to Utah County Birders for $15.00 and mail it to:
Carol Nelson
2831 Marrcrest West
Provo, Utah 84604
You will be helping to support the web page and we will send you a copy of the newsletter.