Utah County Birders Newsletter
April 2009
Contents
April Meeting
Upcoming Field Trips
Ned's Notes
Bird of the Month
Backyard Bird of the Month
March Hotline Highlights

---
APRIL MEETING:
Thursday, April 9th.
"Practical Online Birding—Using Technology to Become a Better Birder" - Our own Milt Moody with help from a few others will show us how modern technology can assist our birding efforts.

Meet at 7:00 PM in the Bean Museum Auditorium on the BYU Campus.

---
April 25 2009: Fish Spring & Callao - Day trip; leave Springville Walmart at 5:30 a.m.

May 14-18 2009: Great Salt Lake Bird Festival - make your own arrangements.

June 5 & 6 2009: Brown's Park National Wildlife Refuge - looking for an opportunity to work on your Daggett county bird list? Here's the trip for you. Details TBA
We are actively recruiting people to lead local half-day field trips, any time, any place. If you would like to lead a field trip or if you have any ideas for this year's field trips, please contact Lu Giddings at - seldom74@xmission.com.

---

Ned's Notes
By Ned Hill – President, Utah County Birders

"The Joy of Birding"

A couple of decades ago, I read a book called the Joy of Birding. The author recounted many experiences that had brought joy into his life from his experiences in observing birds in the wild. I was just starting to get back into birding again myself and was taken by his adventures. I read it several times and have reflected many times since on the joy and excitement birding brings to so many of us.

Part of that joy comes from encountering the unexpected. One night I accompanied Merrill Webb and a few others up nearby canyon to look for Northern Saw-whet Owl. I had never seen one. As we stood near a treed hill and made the sound of that little owl for many minutes, we finally got an answer from the distance. The sound came closer—and then, suddenly, the little owl swooped right down over our heads—missing my hat by just a few inches. What a thrill to then finally see it perched in a tree staring at us with large eyes.

Part of the joy comes from just being out in nature. My friend Ivan Call admitted he had never seen so many sunrises since going into birding. He and I shared a few weeks one summer hiking over three-foot thick tundra and boulders on the slope of Coffee Dome outside of Nome, Alaska, just to find a very rare Bristle-thighed Curlew fly over our heads. The scenery was spectacular and the memory indelible. What else but birding would have taken us into a mountainous area near the Arctic Circle on a spring day in 1996?

Another part of the joy comes from being with friends in a joint effort of discovery. A group of ten Utah County Birders had the thrill of exploring Eastern Australia one August. With expert guide, Richard Jordan, we hiked through rainforests looking for Superb Lyrebird, walked through sparsely wooded trees finding honeycreepers, hiked around an island in the Great Barrier Reef looking for seabirds, and waited along a slow-moving stream at twilight for a Duck-billed Platypus to appear.

Joy also comes from sharing discoveries with others--especially our own family. I'll long remember the fever-pitched excitement in the voice of Isaac, our then three-year-old grandson, as he stood on a kitchen chair last spring, looking out on our deck and shouting, "Oh my goodness, Gwampa, a Lazuli Bunting! Lazuli Bunting!". Indeed, there was a brilliantly blue male Lazuli Bunting there, actually several of them. And I don't know whether Isaac or I was the more excited.

While many aspects of life bring joy, surely birding is one activity that merges multiple attributes of joy. And in this time when the economy is not adding much to our well-being, we need all the joy we can get from a source like birding.


---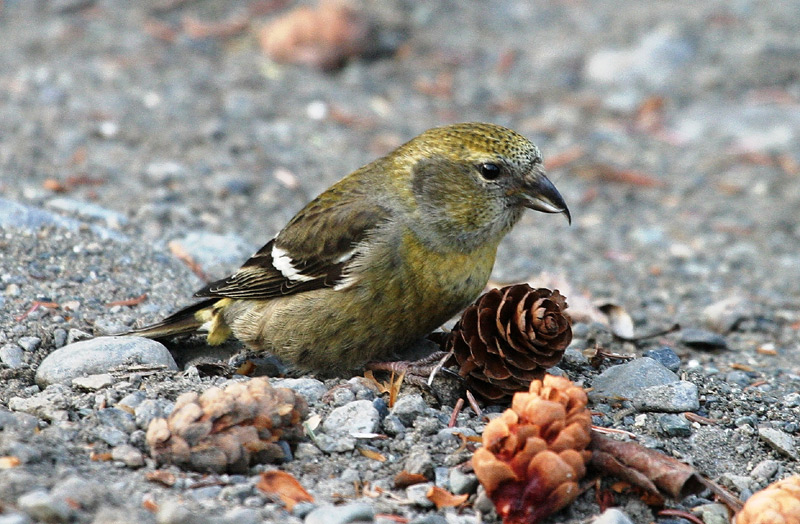 photo by Bryan Shirley
Bird of the Month

White-winged Crossbill
Loxia leucoptera
By Bryan Shirley

Since everybody keeps reporting White-winged Crossbills all over Northern Utah I thought that would make a good bird of the month.

White-winged Crossbills are quite rare in Utah. Some years they can be found in the summer in high altitude conifer forests. Occasionally they will be mixed in with Red Crossbills.

However this year White-winged Crossbills are being seen in high numbers around Northern Utah and all across the US. They are one of those species that has a cycle where the population keeps growing and then crashes, this year probably being the year before they crash. This is the year to see them in Utah – who knows when we will see numbers like this again.

This year in Utah they have been being seen around Huntsville, Morgan, and other locations in Northern Utah. In Utah County there was a bunch being reported In AF Canyon. If you want to see them head into the mountains and find trees with lots of pine cones, then watch and listen.

The key to finding crossbills is their calls. Both species make a lot of noise, including when they fly. For help learning the calls check out this article posted to birdtalk by Kris Purdy:
http://ebird.org/content/ebird/news/introduction-to%20crossbill-vocalizations

It is common knowledge (at least with birders!) that crossbills got their name because of the unique bill structure, but one interesting thing that I recently learned (thanks to a post to birdtalk by John Cavitt in February with a link to a study out of Princeton) was that the bills don't always cross the same direction. In White-winged Crossbills the lower mandible crosses to the right 3 times more than the left, so next time you see one look close!

---
March 2009

Merrill Webb – Orem
A Sage Thrasher sitting on my window sill - a new (and unusual) yard bird. I also had a large flock of Pine Siskins visit my feeders – around 130.

Steve Carr - Holladay
Both Sharp-shinned and Cooper's Hawks on separate days.

LeIla Ogden - Orem
I've been hoping and watching for crossbills, since they seem to be at a lot of folks feeders. But, alas, I just have the same old birds I've had all winter. Lots of Pine Siskins and finches. Had some beautiful Goldfinches today. Also Lessers.

Bruce Robinson – West Jordan
Red Crossbills - 12 birds and not a single White-winged Crossbill... (no I am not complaining!)

Lynn Garner - Provo
A Sharp-shinned Hawk stopped by, hoping for a breakfast at my feeders; he was disappointed.

Milt Moody - Provo
My backyard bird of the month is a Lincoln's Sparrow in Spring attire.

Tuula Rose - Provo
Downy Woodpeckers have found my suet feeder and come down when the pair of starlings (who are already busy setting up housekeeping in my owl box) are not on it.

Harold Clayson - Salem
Normally I wouldn't mention this, but after today's storm I've got a Black-capped Chickadee burning more calories getting sunflower seeds out of my feeder than he's eating.

Eric Huish - Pleasant Grove
Merlin - diving on a Sharp-shinned Hawk. Dogfight over the backyard.

Carol Nelson - Provo
A very welcome pair of Mourning Doves, the first harbingers of Spring I've seen through the snow flakes in my back yard. Besides they were a relief from the sight of Mallards eating the Scrub Jay peanuts, shell and all.

Reed Stone – Provo
4 Downy Woodpeckers

Bonnie William – Mapleton
4 Cedar Waxwings showed up for brunch in my flowering apple tree. Also, I had a large flock of Pine Siskins in the trees and on all of the feeders – too many to count.


We would like you to share your favorite backyard bird each month. Please send your favorite bird at the end of the month to newsletter@utahbirds.org or call Cheryl Peterson at 375-1914 (home) or 787-6492 (cell).