Utah County Birders Newsletter
July 2005
Contents
July Meeting
Upcoming Field Trips
Feather Talk
Field Trip Report - Ouray NWR and Pelican Lake - June 4, 2005
Field Trip Report - River Lane and Lincoln Point - June 18, 2005
Field Trip Report - Aspen Grove - June 25, 2005
Backyard Bird of the Month
June Hotline Highlights
---
Wednesday, July 13th
Evening Birding up Payson Canyon - Meet at 6:30 PM at Payson Canyon City Park (AKA Beer Can Flats). The Park is on the left side of the road near the mouth of Payson Canyon (Big parking area between the canyon road and the river). We will enjoy an evening of visiting and birding, likely continuing after dark in search of owls. Everyone should come prepared (e.g., water, snacks, jacket, rain gear, small flashlight, repellant, etc.).
---
July 9th (Sat): East Tintic Mountains - Meet at 6:30 A.M. at the Sam's Club parking lot in East Bay in Provo (1313 S University Ave). We meet at the end of the parking lot next to University Ave.

July 13th (Wed): Payson Canyon - See July Meeting above.

August 6th (Sat): Strawberry Valley - Meet at 7:00 A.M. at the Orem Center street Park & Ride (I-15 exit 274).
---
Feather Talk
By Alton Thygerson

To Bird or Not to Bird

Every human on earth—Bill Gates, Oprah Winfrey, and you—all have the same amount of time:
• 60 seconds in a minute
• 60 minutes in an hour
• 24 hours in a day
• and 168 hours in a week

Obviously, everything we do requires time. Some activities are externally controlled (family obligations, work duties), and other activities are internally controlled (chatting on the phone, commitment to a club, birding, gardening, golfing).

Have you ever thought that if it weren't for work and to-do lists, you would have plenty of personal time? The Hilton Family Leisure Time Advocacy Study found that one in three (34%) feel we live to work rather than work to live. If we had it to do over again, only 15 percent of us would work harder, compared to 40 percent who would spend more time enjoying our leisure time.

Americans have twice as much leisure time as we think we do, according to the Hilton Family Leisure Time Advocacy Study. The study found Americans believe that spending time relaxing with friends and family is among the best investments of time. Pursing hobbies (e.g., birding) was declared the second best use of time.

This brings us to the hobby we share—birding and how to implement it into our lives. You learn to bird by birding. You have to be where the birds are and you have to spend time looking at them.

Put your binoculars on a table or a stand by a window, especially if you have placed a feeder outside. Every time you pass that window, look for birds. If there are any, pick up the binoculars and have a look.
Consider taking your binoculars along with you when leave the house. When you take a drive, your binoculars and field guide should be with you. As you drive (and if traffic conditions allow) check out the telephone and power lines, fence tops, and tree tops. It is not necessary to always stop, but if you are aware of the birds as you drive you will soon get a sense for what birds are where in your neighborhood. If you see something of interest, but can't get a good look at it, come back when you have time. You do not have to carry your binoculars around your neck on airplanes as the expert bird guide and guru Pete Dunn does, but they could be in your carry-on bag.

Ideally, put in a minimum of 15 minutes a day of serious birding—if not outside, stay inside studying the field guides. Once a week, or every other week if that is all you can swing, set aside two to three hours for a trip. There is nothing like being where there are lots of birds to keep up your interest and enthusiasm. Check out every reasonably sized body of water within an hour's drive. See what's on the water, but don't forget to spend at least as much time in the hundred yards or so that fringes the shore. Go to fringe areas where forests meet open areas.

Go on the Utah County Birders' organized bird walks and field trips. Ask every birder you meet where to go to see birds in your area and make time to visit those places.

Consider signing up for a bird tour with a professional guide. When planning vacations, keep birding in mind. You will be surprised at how many bird rich areas exist, many of them conveniently located near major tourist attractions that will keep the rest of your family happy. Both of these suggestions help keep the zest for birding high since you will be seeing new birds and not the same ones day after day.

After awhile, make a list of target birds (desired birds you have not seen). Learn what
you can about these birds as to when and where they can be found. Then, arrange a trip, vacation, or join a tour targeting the birds on your list.

Real birders not only bird a lot, they get so they bird all the time! Several years ago, I was driving one of my co-authors (a retired Denver cardiac surgeon who was a past president of the Denver Audubon Society) to the Salt Lake City airport. Several ponds exist near the airport and as we passed them, he was looking long and hard at the wading birds and waterfowl. He birds wherever he is.

I know there are more important things in life than birding, but most Americans believe that we should devote more time than we do to hobbies. We are fortunate to have very good birding opportunities with 426 documented species in Utah making our pursuit of birds an enjoyable experience.
---
Field Trip Report
Ouray NWR and Pelican Lake - June 4, 2005
by Lu Giddings

Alton, Lu and Bob at Ouray NWR - June 4, 2005 photo by Eric Huish
Three hardy souls met at 5:00 a.m. on Saturday morning (June 4th) to make the trip to Ouray. The sound of killdeer and a common nighthawk in the darkness overhead augured well. Our group number later doubled as we met three more birders at Ouray shortly before 8 a.m.

The Green River is very high and has inundated much of the Leota bottoms area. Units that were completely dry three weeks ago are now flooded, and some areas that are normally just marshy are under several feet of water. It was apparent that, high as the water in the unit is, that it has receded some 12-18" over the last few days. Some of the dikes we had hoped to walk were impassible as we had neglected to bring our swim fins. The Sheppard bottoms area (the auto tour loop) also had water
levels that seemed higher than normal in some areas. But all in all there was plenty of good habitat for the numerous birds we observed.

Early in the afternoon we drove back up the road to Pelican Lake. The water level here was also higher than that observed in mid-May, but it was not as dramatically high as at Ouray. We spent several hours exploring the area.

It was our good fortune to get good looks at both our target birds, American bitterns and black terns. The weather was beautiful, the bugs were not too bad, and the company was great.

p.s. - if you visit Ouray be on the look-out for a yellow-billed cuckoo in the cottonwoods between the boat ramp and the 1st Leota bottoms gate. We thought we heard one but could never find it; the water levels beneath and around the trees prevented us from a thorough search.

Participants: Eric Huish, Bonnie Williams, Alton Thygerson, Artis Thygerson, Bob Bradley and Lu Giddings.

Partial trip list (79 spp): Pied-billed Grebe, Eared Grebe, Western Grebe, American White Pelican, Double-crested Cormorant, American Bittern, Great Blue Heron, Black-crowned Night Heron, Snowy Egret, White-faced Ibis, Turkey Vulture, Canada Goose, Gadwall, Mallard, Blue-winged Teal, Cinnamon Teal, Northern Shoveler, Northern Pintail, Green-winged Teal, Redhead, Lesser Scaup, Ruddy Duck, Northern Harrier, Red-tailed Hawk, Golden Eagle, American Kestrel, Ring-necked Pheasant, California Quail, Virginia Rail, American Coot, Killdeer, Black-necked Stilt, American Avocet, Willet, Spotted Sandpiper, Wilson's Phalarope, Franklin's Gull, Ring-billed Gull, Forster's Tern, Black Tern, Mourning Dove, Common Nighthawk, White-throated Swift, Northern Flicker, Western Wood-Pewee, Willow Flycatcher, Western Kingbird, Eastern Kingbird, Loggerhead Shrike, Plumbeous Vireo, Black-billed Magpie, Common Raven, Horned Lark, Violet-green Swallow, Northern Rough-winged Swallow, Cliff Swallow, Barn Swallow, House Wren, Rock Wren, Marsh Wren, Blue-gray Gnatcatcher, Mountain Bluebird, American Robin, European Starling, Yellow Warbler, Common Yellowthroat, Yellow-breasted Chat, Spotted Towhee, Lark Sparrow, Savannah Sparrow, Black-headed Grosbeak, Blue Grosbeak, Lazuli Bunting, Red-winged Blackbird, Western Meadowlark, Yellow-headed Blackbird, Brown-headed Cowbird, Bullock's Oriole, American Goldfinch.
------------------------------------------------------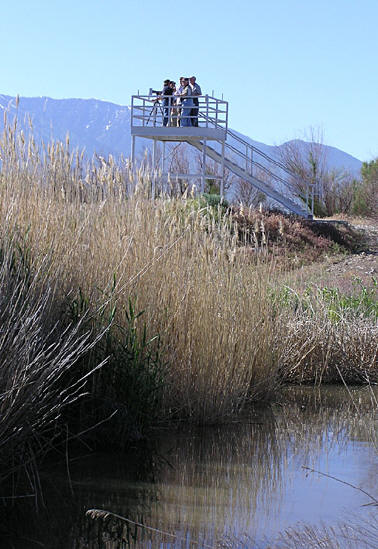 Utah County Birders on Viewing Tower at 4000 West Lake Shore Sportsman Access - June 18, 2005 photo by Eric Huish
Field Trip Report
River Lane and Lincoln Point - June 18, 2005
by Carol Nelson
Being unable to participate with the birders on many of their field trips this year, Saturday's trip was a delight for me. It reacquainted me with some of God's most beautiful creations, birds and birders. I had fun just standing there holding my binoculars. We added Benjamin slough and 4000 West to our anticipated birding areas. The fact that 4000 West has water again was an added bonus. Some of the highlights follow.

We picked up the Eurasian Collared-Dove on the barn at the beginning of River Lane, a Great Horned Owl and a Blue Grosbeak down further. The Blue Grosbeak reappeared at 4000 West. Milt's ever-present scope found an Osprey sitting on a nest and someone's sharp eyes pulled a Wilson's Phalarope out of the stands of weeds in the fields at 4000. We also saw an Eastern Kingbird there. At Benjamin slough I was reminded that birders don't just scan the ponds and poles, they also check the heavens. "Up, up in the sky" a Black-crowned Night-Heron, a Caspian Tern, and a Common Nighthawk did a quick fly over. Bonnie and Alona's sharp eyes rewarded us with a Short-eared Owl at Lincoln Beach. We were 12 in number and ended up with a trip list of 54 species. Perhaps if we all had the sharp ears and mind of Eric Huish we would have had more. He heard 10 species we could never locate. I, personally, would like to thank all those who faithfully lead the trips, put together the newsletter and make our meetings interesting. In my eyes, they're great!
------------------------------------------------------
Timp. Trail Head at Aspen Grove - June 25, 05
photo by Eric Huish
Field Trip Report
Aspen Grove - June 25, 2005
by Grant Jense
Eric Huish led a group of nine Utah County Birders on a bird walk on June 25th in the Aspen Grove - Stewart Falls area. We met at 7 a.m. at the mouth of Provo Canyon and were greeted by a cool wind coming down the canyon.

It was a very pleasant and sunny morning by the time we reached the trialhead parking lot at Aspen Grove. The canyon is very green and lush with vegetation this year. We saw more water running down the streams and hillsides than I have seen in years. We watched for birds around the trailhead parking lot and then walked most of the way to Stewart Falls. There was some snow remaining on the trail and there were areas were avalanches had knocked down trees this past winter.

The birds were enjoying the morning as much as we were and were actively singing. We never saw a large number of birds, but were able to see several of the resident nesting species such as: Western Tanager, Black-headed Grosbeak, Orange-crowned and MacGillivray's Warblers, Chipping and Fox Sparrows, Cliff Swallows, White-throated Swifts, Red-breasted Nuthatch, Mountain Chickadee, Broad-tailed Hummingbird, Warbling Vireo, Ruby-crowned Kinglet, Northern Flicker, Red-naped Sapsucker, Swainson's and Hermit Thrushes, American Robin, Dark-eyed Junco, Bullock's Oriole (mouth of Provo Canyon) and two unidentified Empid Flycatchers. Also - Steller's Jays were heard calling from the slopes above us on several occasions.

The group also enjoyed identifying various wildflowers, shrubs, trees and butterflies. In all, it was a very pleasant field trip.
---
Backyard Bird of the Month
June 2005

Steve Carr - Holladay
Lesser Goldfinch - small flock still present since February.
KC Childs - Orem
Brown-headed Cowbird - Second one ever.

Wade Covert - Provo
Lesser Goldfinch - I've had more Lessers lately.

Eric Huish - Pleasant Grove
White-throated Swift - Fly over, yard bird # 88.

Milt Moody - Provo
Baby Robin - Chasing it's parent -begging for food.

Cheryl Peterson - Provo
Cute little Pine Siskin begging for food from its parents.
Tuula Rose - Sipoo, Finland
A tie between a Blue Tit with a nestbox full of young and a Robin ( the original kind) singing the sweetest song high in a tall fir tree.

Dennis Shirley - Los Quetzales Lodge, Panama
Oscellated Antbird - Following an ant swarm, catching bugs moved by the ants.

Carolyn Shirley - Los Quetzales Lodge, Panama
Harpy Eagle - Seen from the Canopy Tower while Dennis was off birding.

Reed Stone - Provo
Lesser Goldfinch - Gleaning spiderwebs from windows for nests.

Alton Thygerson - Provo
Broad-tailed Hummingbirds

Bonnie Williams - Mapleton
Olive-sided Flycatcher - New for year.


We would like you to share your favorite backyard bird each month. Please send your favorite bird at the end of the month to newsletter@utahbirds.org or call 360-8777. If you would like a reminder at the end of the month e-mail the above address.
---