---
eBird Data: | Nebo Loop | Maple Dell | Payson Lakes | Purple Martin Colony | Nebo Bench Trailhead |

Directions: It takes 40 to 50 minutes (30 miles) to get from Provo to Payson Lakes (see Payson Lakes Area Map). Travel south on I-15 from the University Avenue junction to the Payson exit (number 250), about eleven and one half miles. Take the exit, then turn south (left) under the freeway and travel for about one mile to the first stop light. Turn left on 100 North Main and travel east for another mile to the top of the hill and turn right onto Peteetneet Boulevard. Petneetneet School, N 40 01.958' W 111 43.812' will be on your right. From this intersection it is 12 miles to the lakes. As the road is quite narrow in many places with many curves, precaution in traveling is advised.
Description:
Even though it is a narrow, winding road, there are a few places where it is safe to pull off the road to do some birding. The first suggested stop is three miles from the school, where there is a wide pull-off area on the left side of the road near a diversion dam. Look for Western Wood Peewee, Warbling Vireo, Yellow Warbler, and Lazuli Bunting. Continuing southward you will pass through a number of different habitats as the elevation increases. After nine miles turn west (right) to the Payson Lakes Campground, N 39 56.391' W 111 43.812'. This is a day use area only and can be very productive at the right time of the year. Look for Pine Siskins, juncos, kinglets, Steller's Jays and swallows, especially the Tree Swallow. Return to the main road, and after .8 miles turn right into the Payson Lakes campground. Look for woodpeckers, kinglets, Cassin's Finch and chickadees in this area. There are additional campgrounds and trails to the south of Payson Lakes. The Nebo Loop Road continues on across the mountain through beautiful aspen forest and then descends into Salt Creek Canyon east of Nephi. (See Santaquin Canyon turnoff below).
Description: Merrill Webb's Description and bird list
Field Trip Reports: | 11 Jul 2007 | 13 Jul 2005 |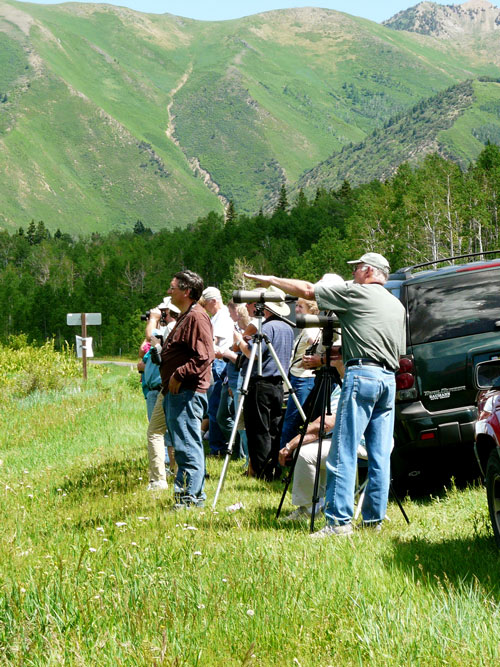 Santaquin Canyon Turnoff
Optional Route: About 5 miles up the canyon from Payson Lakes is a turn off to Santaquin Canyon (see map). A three-or-four-mile-long graded road connects to the paved road of Santaquin Canyon. It passes a road to Camp Koholowo (a girl scout camp) and through Santaquin Meadows (see picture on the left), which is a good place to stop to see Lincoln's Sparrows, Brewer's Sparrows and maybe a Red-naped Sapsucker. In Santaquin Canyon, be on the lookout for Golden-crowned Kinglets, Brown Creepers and flycatchers. When you come to I-15 take the frontage road north to enter the freeway.