---
Directions: From I-215 exit 21, California Ave, drive west 5 miles. (address: 5800 West 1400 South) The ponds are on the south side of the road. Turn left into the entrance with the pale brown welcome sign. Even if the gates across the roads leading south are open, vehicle access is not permitted on those roads.

"Also you can take the 5600 West exits from either 21st South freeway (go north) or I80 (go south)." ~ Cathleen Caron

Description: Lee Kay Ponds are a series of freshwater ponds near the Salt Lake County Solid Waste Facility in northwestern Salt Lake County with facilities for wildlife watchers. The ponds are part of the large Lee Kay Hunter Education Center property with administration buildings on 5600W just north of SR-201.
Birds: Winter, practically every gull on Utah checklist has visited here. Common Merganser, various diving ducks, some puddle ducks, pelicans and cormorants in summer. Herons and egrets and Great-tailed Grackles are sometimes common in summer. Winter buteos and summer buteos, Bald Eagles in winter, Kestrels, Peregrine and Prairie Falcons. Good place to check in on practically any time of the year, because so many different birds have been seen there in the fairly short time it has been open. ~ Steve Carr
eBird Data: | Lee Kay Ponds | 7200 West (I-80 to 1300 S) |
Other: A spotting scope is necessary. Observe from the road, from the small parking spots along the road, or from the observation pavilion. Walkers can proceed through the gates to view the ponds from the south side where the light conditions are better for birding and photographing. For more information, call the Lee Kay Center at (801)972-1326.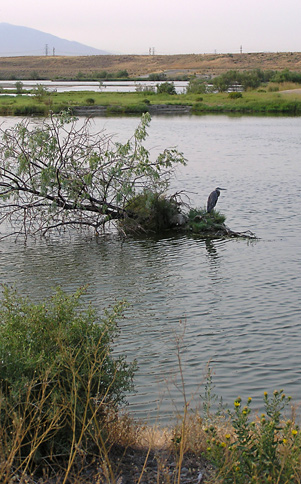 Information: The auto loop road is open year-round, from 8 a.m. to 5 p.m. Mondays through Saturdays, excluding Thanksgiving, Christmas and New Year's Day. For more information, call Walters at (801) 538-4771 or the Salt Lake Valley Solid Waste Facility at (801) 974-6902.
... someone asked the other day about the locked gates. I have asked about this, as they have always been locked when I've gone. I was told that although you can't drive around the pond, you are allowed to walk around past the gates. ~ Cathleen Caron
Access to Lee Kay Center
by Kris Purdy (Jan 2006)