A note by Rosemary Seidler:
Possible American Black Duck
Minersville Lake, UT
August 8, Monday
approx 3:30 PM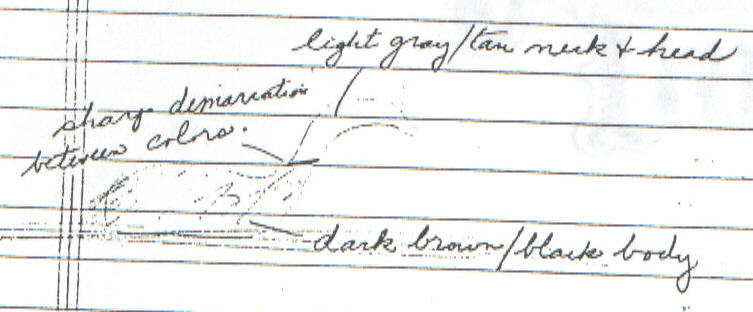 Duck was sitting on shore next to 2 female Mallards. This duck appeared to be slightly larger and was much darker brown than the mallards. Neck & head were uniformly muck lighter than the body. Body was uniformly dark.
Duck was about a city block away. I viewed it thru Bausch & Lomb 8 x 36 binoculars as well as a Discoverer scope at 25x. Bright light. Duck was viewed from 3 angle. It was on opposite shore so we could not get closer. I did not see it fly.
Other Possibilities:
Mallard: duck was next to 2 mallards & it was much darker. Blue speculum of mallard was visible, no speculum color could be seen on this duck.
Gadwall: duck was uniformly much darker that a gadwall. There was no difference between body color & rump color.
Mottled duck: mottled duck is uniform in color, lighter brown, & smaller than this duck.
No other ducks have this general shape & color.
I have birded the Louisiana & Texas coast at least twice a year for the past 5 years & have observed amny mallards, black ducks, & mottled ducks during this time. This duck matches my observations of American black ducks.
Other observers: Merrill Webb, John Ginaven
Rosemary Seidler
740 Prospect St.
Shreveport, LA 71104
Member: ABA, LOS, Shreveport Bird Study Group